You've obsessed over it, altered it, cried in it, and married your best friend in it. But what do you do with your dress after your wedding?
The "I dos" have been said, the cake has been cut, and the bouquet has been tossed. Your wedding was one of the best days ever, and has left you with memories (and pictures!) you'll cherish for the rest of your life. It's also left you with what might be the most expensive piece of clothing you've ever purchased: your wedding dress. While there's plenty of wall space to hang those incredible photos, stuffing your gorgeous gown into the back of your closet feels a little anticlimactic (now we know why "Say Yes to the Dress" never covers this part).
But is there anything else you CAN do with your dress after your wedding? Popping it into a garment bag and tucking it away behind a blazer you forgot about is definitely an option, but here are a few other ideas to give your gown a glorious second life.
Sell It
Slipping into your dress on the big day felt great! So great in fact, that it made up for the way you felt when you saw the price tag and the alterations bill. If you're still chipping away at that credit card balance, consider reselling your gown on sites like Nearly Newlywed, StillWhite, ThreadUp or Poshmark. If you don't want to pay for a listing or membership, try finding a local buy/sell/trade group on Facebook. You probably won't recoup the cost of your dress, but even a little bit of cash can help pad that post-wedding bank account.
Donate It
There are plenty of brides who don't have the means to spend a lot on their wedding dress. When you donate your gown, you're giving another woman a chance to feel as beautiful as you did on your wedding day. Organizations like Goodwill, The Salvation Army, and The Junior League can offer your gown to new brides at a significantly reduced cost. There are also groups that will accept dress donations to benefit specific causes: Brides Across America will give your dress to a military or first responder bride who is burdened by financial hardships, Adorned in Grace will resell your gown with proceeds benefiting victims of sex trafficking, and Brides Against Breast Cancer will use your dress to raise funds for breast cancer causes.
Trash It
You spent months keeping your dress safe and pristine. You even shooed away your Aunt Debbie and her glass of Cabernet until the photographer took his last shot! So there's something strangely freeing about a "trash the dress" photo shoot. Whether you hop in the pool, decide on a game of paintball, or go for a run along the beach, you can get some beautiful and unique photos to contrast the prim and proper pictures in your album.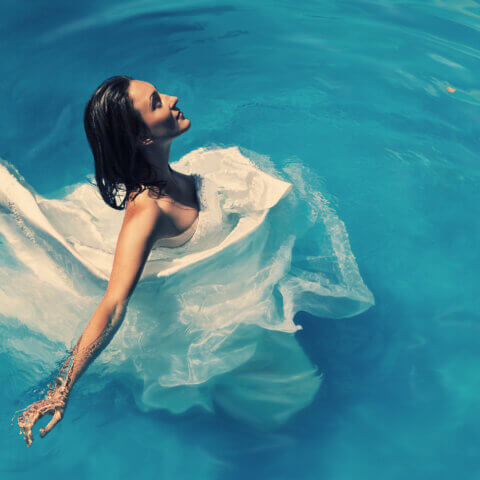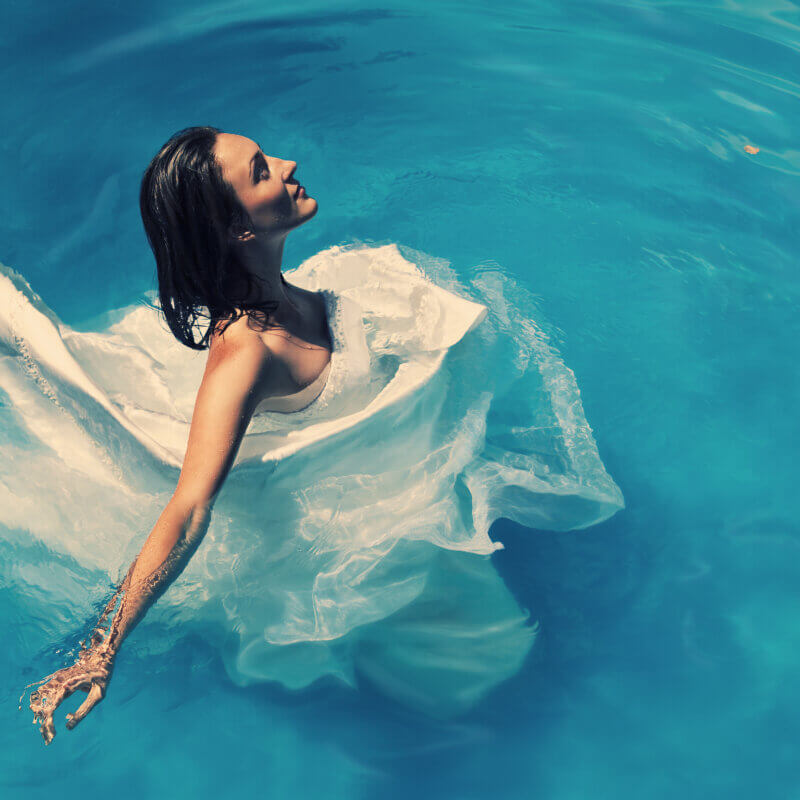 Preserve It
You may decide that you just can't part with your beautiful gown – and that's okay! If you want to keep your dress looking just as good in 20 years as it did on your wedding day, consider getting it professionally preserved. This will prevent discoloration and damage – something you'll risk if you decide to simply hang in your closet. Many dry cleaners will repair and preserve your gown in the days after your wedding. You can also purchase a preservation kit through stores like Bed Bath & Beyond.
Repurpose It
Your fabric, lace, and beading made for a stunning wedding dress – but why should those details be reserved solely for your gown? Sections of your dress can be used to make beautiful household items and decor. And if you're planning on the pitter-patter of little feet in your future, think about saving your gown for your kids. Not necessarily to be worn for their own weddings (let's be real – imagine wearing YOUR mother's dress), but to be made into baptism gowns, first communion dresses, or Halloween costumes.
You can even take a page out of BOLI founder Heather Cunningham's book, and use your dress as a prop for the most adorable newborn shoot ever!
"I didn't know what to do with my dress after I got married, but I knew I would never be the mom to force it on my daughter when it was her turn to walk down the aisle," said Heather. "Instead, I threw it down in the dirt after she was born and had a photo shoot on it.
"I promise you, nothing is cuter then losing your newborn daughter in a sea of tulle and lace."
 Wear it again
You love your dress way too much to wear it just once, so keep it around and wear it again! Slip it on and take pictures every anniversary, dye and restyle it to wear for a fancy date night, or zip it up on a random Friday night with a glass of rosé and a rerun of "Friends." There's nothing that says your dress has to stay stowed away after you've said your vows!