Brides of weddings past offer insights into what to expect when it's your turn to walk down the aisle.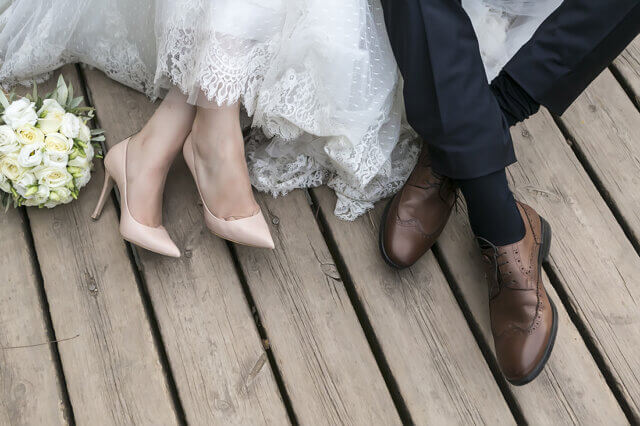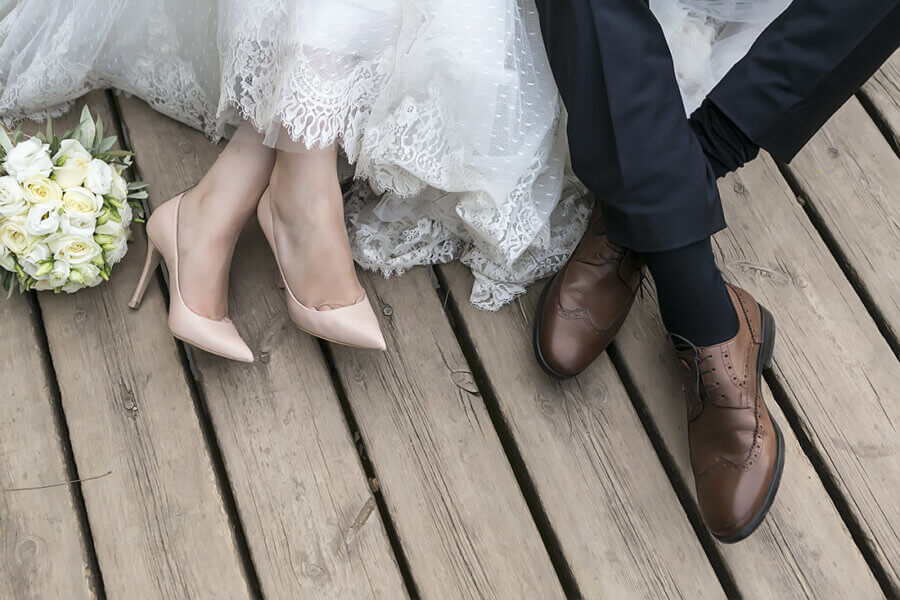 While staring into the abyss of your wedding planning notebook, in between trying to schedule trials and coordinate bridesmaid dress fittings, do you ever wish you could look into a crystal ball and automatically know what your wedding day will hold? While you may not be able to predict everything that will happen, talking to former brides can shed light on important things to remember. Here's the advice some of our friends shared!
Things will go wrong
Whether the flowers show up an hour late, the MC mispronounces your name as you enter into the reception, or the trolley gets a flat on the way to take pictures, the one thing you can absolutely count on for your big day is that something will go awry. But, rest assured: just because everything doesn't go according to plan doesn't mean your wedding won't be beautiful.
"My bridesmaid forgot my veil after carefully steaming it for two hours and my gown's train, which I spent forever obsessing about, never got let down for walking down the aisle. And my mother was in the hospital. It still was one of the most special days of my life." -Amy Beecher
Call for backup
Don't be afraid to recruit your bridal party or family and friends for a little assistance, both in the time leading up to the wedding and for the big day itself. Put a bridesmaid in charge of the tip envelopes. Have your mother-in-law help set up the venue decorations. Give the florist your Maid of Honor's phone number so she can meet them when the bouquets arrive. Find people you trust and enlist them in your wedding day task force! If you've got room in the budget, consider hiring a Day-Of Coordinator to keep everything running smoothly and to handle any issues that pop up.
"Delegate to others. This is an event for you to enjoy, especially on the day of. Demand others help to allow you to do that." -Alayna DeSalvo-Lendyke
Self care is key
Captain Obvious here with a special report: Wedding planning is stressful. Even the chillest bride can become overwhelmed with the seemingly unending list of to-dos. Be sure to take some time away from spreadsheets and vendor meetings for some R&R. Schedule a spa day with your bridal party or a lunch date with your fiancée. Bounce from work early one night for your favorite Yoga class. Prioritize activities that leave you feeling refreshed and reenergized.
"I wish I had spent more time on myself. I was so worried about the event coming together and all the guests having a good time that I didn't do enough self care and relaxation beforehand." -Damayanti Sanusi
Repeat after me: "I will not check the weather obsessively in the days before my wedding."
This is a big one, especially if you're planning for any aspect of your day to be outside. While it's a good idea to get a general idea of what the weather will bring so plans can be altered if needed, refreshing weather.com every 5 minutes and getting panicked if it's not what you envisioned is completely futile. There is zero, zilch, nada, NOTHING we can do about the weather. It will be what it will be. Have a back up plan with your vendors and venue in case of inclement conditions, and trust that those in charge know how to handle anything Mother Nature throws their way.
"I had always dreamed of having at least part of my wedding outside, on the water, with a beautiful sunset. One of the main reasons I chose my venue was because of its stunning outdoor cocktail hour space overlooking the Long Island Sound. The week before my wedding it called for 50% chance of rain. That percentage only increased as time passed and eventually became 100%. I didn't get my outdoor cocktail hour or my beautiful sunset, but I seemed to be the only one that minded or even noticed. I wasted so much energy and so many tears tied to my weather app in that week before the wedding, instead of enjoying that time with my family, friends, and future husband. Plus, we got some pretty amazing pictures in the rain!" -Jennifer Anderson
Set healthy boundaries
When it comes to your wedding, nearly everyone you encounter will have an opinion. Some will offer friendly advice, and some will try to push their beliefs onto you. You may even have a few people in your life that try to make a day that's supposed to be about you and your future spouse all about themselves instead. Remember: "No" is a complete sentence.
"Boundaries. I WISH I knew more when we got married…MILs refusing to cooperate, moms judging fiancées, friends ditching or not being friends- there's a healthy boundary for that! Beautiful one who is reading this, you are NOT selfish, manipulative, bad, narcissistic, or any other word that normally gets thrown at you because you tried to set a healthy boundary. Use your NO. It's okay!!! It is normal, healthy, acceptable, and GOOD." -Rachel Herbst
Don't forget to eat!
The day of your wedding will feel like a marathon. Hair, make-up, pictures. Getting to the venue. The ceremony. More pictures. Your grand entrance. Then your first dance, the bouquet toss, the cake cutting, and visiting with guests. Tired yet? It's very easy to let that delicious entree you picked out months ago be whisked away from your table without you even taking a bite. Make sure you carve out a bit of time to taste all of the delectable food your venue has to offer. That goes for before the ceremony, too! Be sure to have some small snacks and water on hand to keep you going until you get to dinner; even the most seasoned athletes wouldn't run a marathon with no fuel in the tank.
"Between photos and greeting guests, I think I sat for a total of five minutes during my reception. The venue did put plates together for us to eat afterwards, but it was all cold and it just wasn't that great. I would have made sure there was something we both loved waiting for us in our room before the wedding even started had I known how little I would eat during the 5-6 hours of the wedding." -Kristen Waylen Hackett
Take it all in
Your day will fly by quicker than you can say "I do." Take a moment to absorb everything, whether it's pausing for a few moments to notice the decor of your venue, stopping to give your new spouse a quick kiss, or looking into the faces of your loved ones surrounding you.
"The day goes so fast. It really is over in the blink of an eye. I wish I had taken more time to really be present and notice all the details. When we got our pictures back, there were some moments captured that I honestly didn't even remember happening, and that made me sad. If I could do it again, I would make sure to slow down some and really pay attention to everything." -Nicole Ainsley
Most importantly, remember that as long as you've got your loved ones surrounding you, your wedding will be a day you'll treasure for a lifetime!