Why your card box may be lighter than you expected.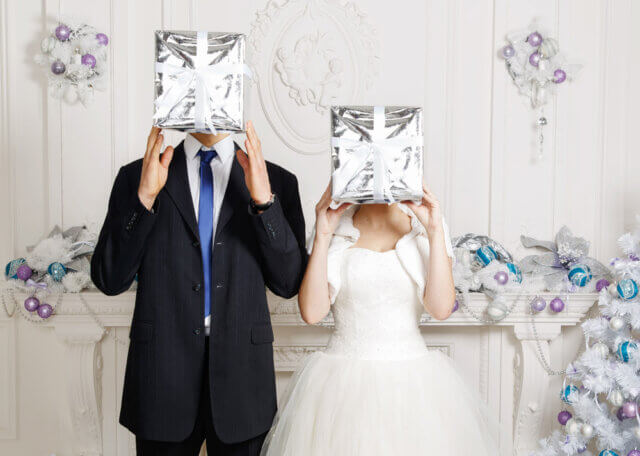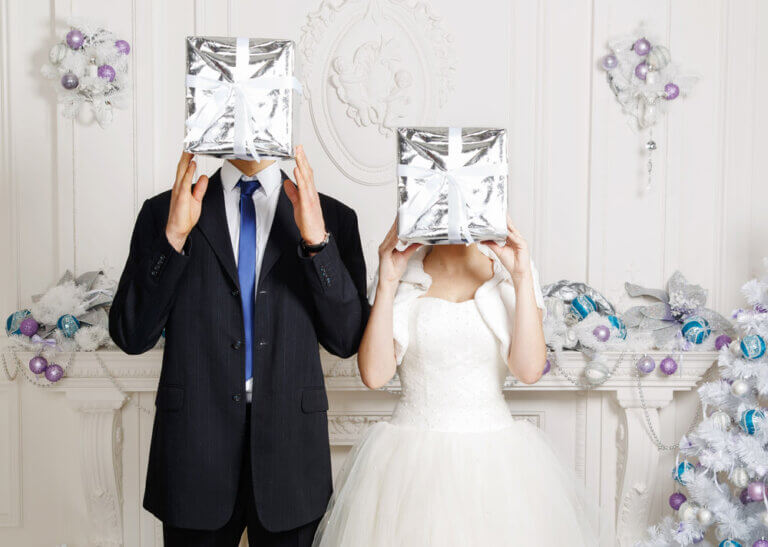 As a born and bred Southerner, I always came to weddings armed with an articulately wrapped gift. After I made the trek up north and became a Long Islander, I couldn't imagine that things would be any different. When I suggested to my then boyfriend (now husband) that we'd better grab something off the registry and stop by CVS for some silver wrapping paper before heading to a wedding the next day, he looked at me as if I had two heads.
"Uh, we're putting cash in a card for the gift."
Now it was my turn to look at him like a monster. Cash? For a WEDDING gift? Wasn't that a bit…crass?
"I mean, we can write a check if you think it's better."
Clearly he was missing my point (the first of many times to follow – love you, babe). Where I grew up, it was pretty unheard of to give money to a newly married couple. It was considered thoughtless, bordering on rude even. You took the time to explore their extensive registry, picked out a nice vacuum or toaster, then wrapped it with artistry and expertise (and the largest bow you could find). As I very quickly found out, this was not the norm in my newfound home.
On the Island, cash is king…
I asked a few local friends I'd made to get their feedback. Was cash an Island-wide wedding etiquette standard?
"I always give money, cash or check" says Molly C, who grew up in Syosset. "We would base the amount on what was probably spent on our attendance, plus a little extra, unless we had a special connection to the couple."
Brittany C, who was raised in Hicksville, had a similar response. "I'll usually give around $150-$200 cash."
The more Long Islanders I talked to, the more it was confirmed: money is the gold (and really, only) standard.
…but what about elsewhere?
I started to wonder if it was just me, in my weird little enclave below the Mason-Dixon Line, that believed a wedding gift was always from the registry. I turned to good ol' Facebook for the answer, hoping to survey friends from around the country.
According to Emily K, who grew up in Massachusetts, "Where I am from, giving cash and honeymoon funds are generally considered to be tacky. Giving off the registry is what is usually done."
This sentiment was echoed by Texan, Hattie C. "My parents wouldn't let us put a honeymoon fund or cash option! We were grateful for some of the cash gifts we received, but my family personally believes it's tacky to give money and much better to give a gift that can be used and enjoyed over a lifetime!"
For Corey S from Louisiana, cash is a last resort. "First [I] try to do a gift from their registry, or if they're very close, something personal that would mean a lot to the couple. If the registry is taken or it's only big ticket items outside my price range, [I'll] do cash.
Patricia D, from California, agrees. "I usually give a gift- either something off the registry or something more special or personal. I know more people that are giving cash these days, but that's not how I grew up, so it seems a little tacky to me. But I'll happily give money if it's requested."
That's not to say that cold hard cash wasn't a viable option, especially for those under 40. Cynthia W, also from California, writes "I always donate money to their online Honeymoon Fund." And Christina V, from my neck of the woods in Florida, writes "I give a check so as to not burden the couple with unwanted gifts."
Registry? Cash? Let's call the whole thing off! (Just kidding- the venue's already paid for)
Relationships and weddings are drastically different than they were 50 or 60 years ago, when getting married meant starting adulthood, and registries with basic household needs were necessary. Today, many of us are getting married well into our adult lives. We're living together first. We're buying homes and starting families before we even think about walking down the aisle, if we do at all. Increasingly, money is seen as a more useful gift than an appliance we already have, or a gadget we don't need, or a piece of china that gathers dust. However, there are still those that believe a wedding gift should be something physical that the couple can use, now and forever.
So what does this all mean for you, beautiful Bride of Long Island? For one, manage your expectations. If you've got a few guests traveling to your wedding from other parts of the country, realize that some may prefer to give you a tangible gift instead of slipping bills into a card. What you regard as a standard, they may think is rude or cheap, and vice versa. Think about forming a small, simple registry where they can select a gift that you'd enjoy.
If you'd strongly prefer cash over any type of registry item, consider letting your guests know (tactfully!) with an insert for your invitations or a short blurb on your wedding website. You can even be specific about where their cash gifts will go by setting up a honeymoon or a new home fund that they can access online.
The big picture? A gift is given in celebration and with good will, as a means to help herald in your new life as a married couple. This is important to keep in mind with any gift you receive, but especially if your friend from Nebraska gives you a Ninja Blender when you were expecting a few hundred bucks instead. Remember our country's different cultural expectations, and remember that anyone who gives you any sort of gift is doing so because they love you, they want to celebrate your union, and they want to give you something meaningful and special.