Style and comfort are key when it comes to wedding day footwear!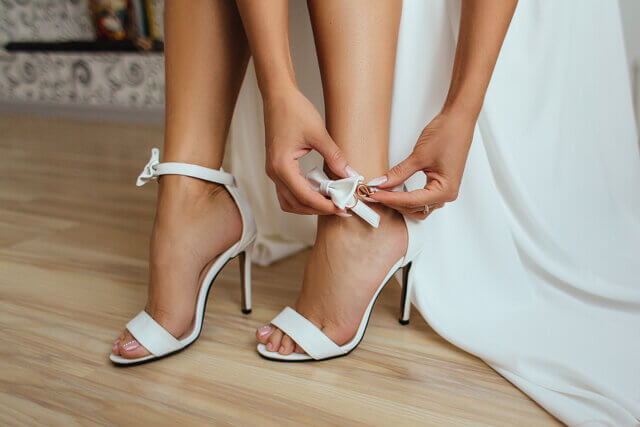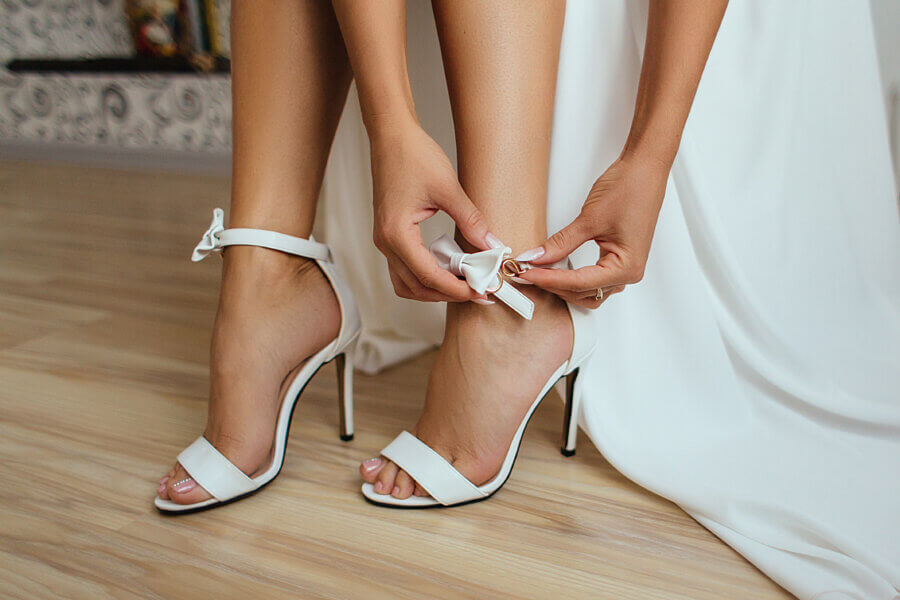 While some may think that what's on your feet doesn't matter on your wedding day, others may say it's one of the most important things you'll put on.
What is on your feet needs to be stylish and comfortable! Comfortable being the key word.  Sure, you can change your footwear throughout the night, but remember, you'll still have to walk down the aisle, take photos and mingle with your fancy shoes before you may be able to switch. If you can find a shoe that is both fancy and comfortable, then girl, you've hit the jackpot!
Below are some places where you can look to shop for wedding shoes.
Macy's – Whether you want a wedge, kitten heel, flats or stiletto, Macy's has you covered. From strappy to classic, the possibilities are endless. Not to mention, you can get bridesmaid shoes here too. In all colors, in all shapes and in all sizes. Oh, and did I mention you can get tons of different brands for affordable prices. Don't forget your coupons!
DSW – Similar to Macy's. But if you head to the store, your options may be more limited as far as sizing. With DSW, you do have the luxury to check out a shoe and try it on without asking for help, as all of the sizes they have are on the floor. If you do find a shoe you love, but they don't have your size, ask a salesperson to check online. They usually offer free shipping if you order at the store. Don't forget the coupons here too!
Jimmy Choo – If you love shoes, you might already own a pair of Jimmy Choos. Or maybe you love shoes, but never splurged. Well, girl, it's your wedding day! Splurge away! Pricing starts at $550 for a flat, but your feet will be dazzling with these fancy designer shoes. Plus, their bridal boutique offers custom orders too.
David's Bridal – David's Bridal is a homerun if you've ordered your dress and/or bridesmaid dresses from here. Their prices are affordable, and you can get shoes dyed to match any dress, which is a plus for matching bridesmaids. And whatever they don't have in their stores, check online. Usually they have a bigger selection.
Belle Belle Shoes – Labeled the 'luxury evening and wedding shoe store,' how can you go wrong? Pricing starts around $100, and it looks like they run sales pretty often. This has every sort of bridal shoe you could think of and even some you maybe didn't even know existed. From floral to strappy and flats to high heels, Belle Belle has everything.
Amazon – What doesn't Amazon have? And who can beat their pricing? If you've seen a shoe somewhere else, it doesn't hurt to check Amazon, which carries all different brands and styles. It's also a good place to check out if you're looking for matching slippers for you and your bridal party. And it's a great stop for bridesmaid shoes!
Nordstrom – Similar to Macy's, Nordstrom carries all different styles and designers. And their pricing, just like their heels, ranges from low to high, depending on the shoe.
ASOS – You might have to do some digging on ASOS for the perfect shoe. But if you know your style and size, and shop ASOS often, this might be the perfect site for you.
Bloomingdale's – Just as in the other department stores, you have options in style and brand. And if you're lucky, you might even find a Jimmy Choo on sale for very affordable prices!
Whatever style you're looking for, just make sure it's comfortable! You'll be on your feet all day. If you know the shoe you love is just stunning, and not that comfortable, make sure to bring a fun backup to change into. No one wants to remember their wedding day as the day their feet were killing them!