Whether you're hosting the holiday or heading to your in-laws, these tips will help ease your stress.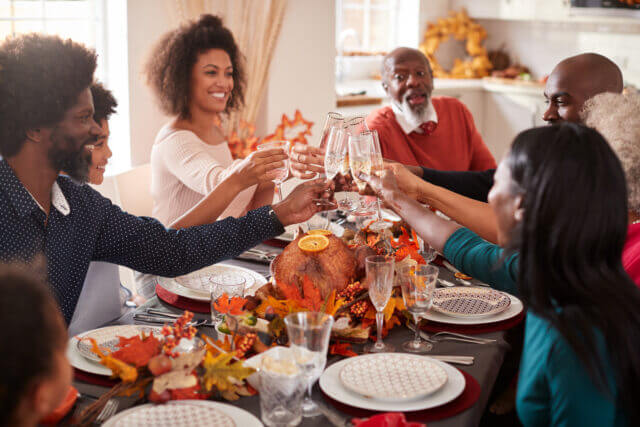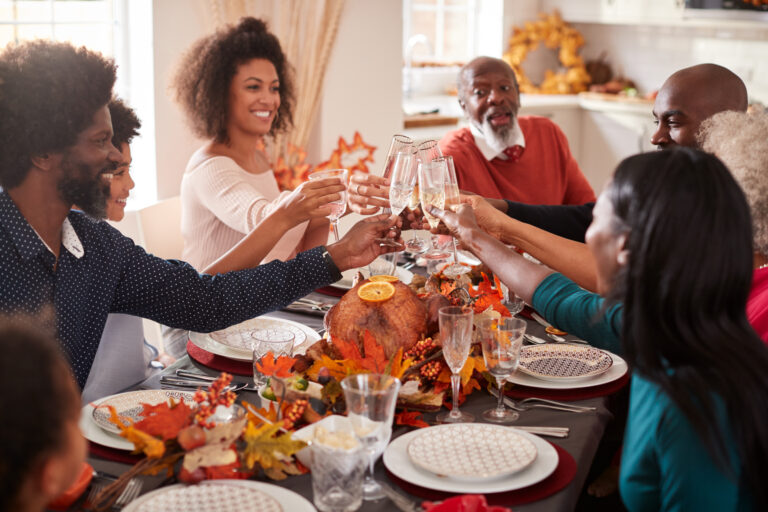 The holidays. They're a joyous time of the year. But with them can bring a lot of stress. If this is your first Thanksgiving as a married couple, it's definitely a milestone. However, it could mean your first Thanksgiving with the in-laws. Whether you are hosting or celebrating the holiday at their home, we have you covered with some tips for your first Thanksgiving with the in-laws!
In either situation, you will want to get the lowdown from your spouse ahead of time. Find out if there are any topics you should avoid all together with specific relatives. Get advice on how to win over his parents or grandparents. And definitely ask if there are any relatives that may chew your ear off all night! By getting the lowdown beforehand, you'll be able to reduce any tension and start building a good relationship with your in-laws.
And while you're hitting your spouse up for the cheat sheet on his family, you can discuss a code word or term if you need help in an awkward conversation. Or even if it's just time to go.
MORE: 7 Ways to Save For Your Wedding
Follow your spouse's lead! Not sure which relatives are huggers? Let your spouse say hello or good-bye first. See how they act at the dinner table. If you follow their lead, you can avoid any awkward moments with relatives you might be meeting for the first time.
Use the tips your spouse gives you to start conversations. But remember to keep them light. Avoid hot-button topics like politics or religion! Find things in common with the in-laws. Are they big Islanders fans and you grew up rooting for the blue and orange? Bond over the latest win (or lament over the latest loss).
If you'll be a guest at the in-laws, offer to bring a dish. If you can cook or bake, consider making it from scratch for extra brownie points. This blogger won over her in-laws with her now famous snickerdoodles at her first Thanksgiving. (They are now a staple at every holiday with the in-laws).
Arrive a little early? Offer to help them set-up or pass out hors d'oeuvres. And after dinner (or any course really), offer to help clean up or at least clear the dishes.
MORE: 11 Weekend Getaways for You and Your Significant Other
Offer your compliments up to the chef. And always say thank you for hosting!
Hosting your first Thanksgiving with the in-laws? Find out if there are any food allergies or dietary restrictions. Be sure to include side dishes that all of his relatives will enjoy. And speaking of food, be sure to have enough! The worst thing during a big holiday would be to run out of food. Remember, you always want to host the party where guests get to take home leftovers!
To avoid any confusion during dinner, consider making place cards of where people sit. This way you can control who sits where, as well as ensuring you will have easy access to your kitchen.
Make his mother feel special by asking for help! If you know she has a special dish, ask her to bring it. Eventually, your bond will grow and you'll feel comfortable enough to ask her for the recipe.
The holidays are a stressful time. If you're hosting your in-laws for the first time, there is added stress that goes along with it. This could mean you and your spouse might be on edge. If you feel any arguments coming on, keep them private.
MORE: Black Friday Wedding Shopping Guide
In the end, just remember to relax and enjoy yourself. The holidays are a great time to make new traditions, but also a great time to honor and learn the traditions of each other's families. So, when it's time to go around the table to say what you're thankful for, make sure to say how grateful you are to be part of an amazing family.