It may be a party, but it's not a free-for-all! How to handle unanticipated "plus one" requests.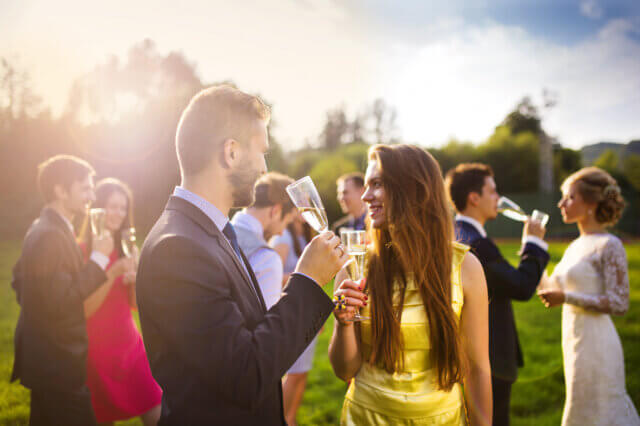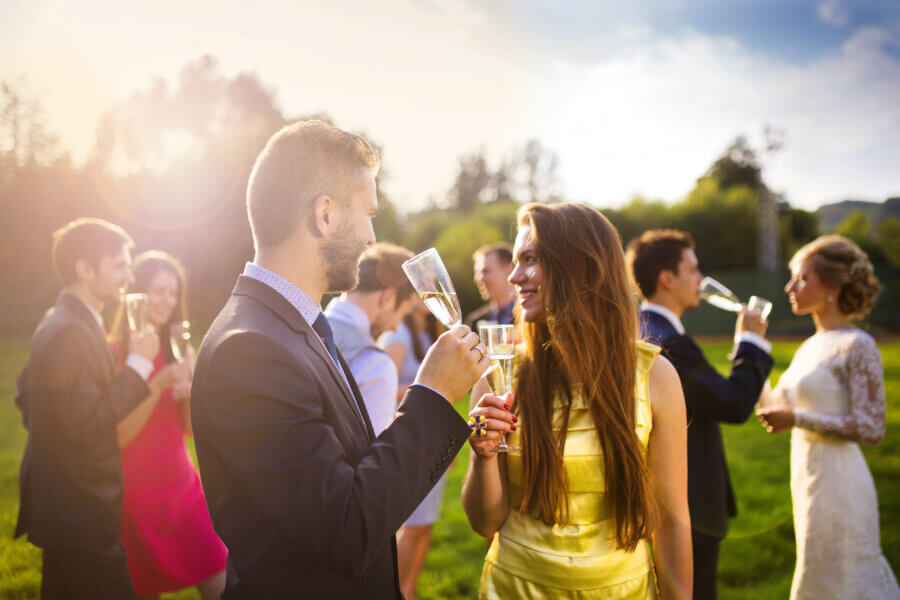 You spend months agonizing over your guest list – can your venue handle it if everyone comes? Should I invite my cousin with all four of her children under 8 (bless her soul)? Where can I sit my fiance's crazy aunt who likes to talk about conspiracy theories with total strangers? After all the dust has settled, seating charts have been solidified, and final numbers have been submitted, there's nothing more frustrating than getting a text from that ONE friend: "Hey, do you mind if I bring my roommate/buddy from college/new hookup from Bumble to your wedding?"
It's a question nearly every bride will have to face at some point. And since the COVID-19 pandemic has brought a necessitated rise of intimate and seemingly less formal backyard weddings, it has become a bit more commonplace for some invited guests to think it's no biggie if they let a pal tag along. Nevermind the fact that you're paying $150 a plate, you've already told the venue or catering staff how many people will be coming, and now you may have a total stranger witnessing one of the most important events of your life. (Or, even worse, someone you don't really like at all – you never forgave that college buddy for their drunken antics at your 23rd birthday party).
Yes, it's aggravating and seems incredibly rude but, like every conflict in life, it's important to try to see the issue from both sides. While you see an upended seating chart and one more vegetarian dish to add to the count, try to look at it from your guest's point of view. Do they want to bring a guest because they don't know anyone else attending, and they just want someone to talk to for the night? Do they have strong feelings about a new relationship and want to share the joys of a wedding with them? Have they just not been to that many weddings, and maybe lack the understanding of how all of this works?
One way to address this issue before it even pops up lies in your invitations. It's a standard practice to address your envelopes to all of the attendees in the household, like "The McMillan Family" (if it's everyone) or "Mr. Steven Adams and Ms Jane Jefferson" (if it's an unmarried couple), or "Mr. Thomas Wilson and Guest," (if it's an attendee and an unspecified plus one).
But sometimes this stipulation gets missed or ignored, and you still end up getting that "hey, can I bring…" text a few days before your wedding. Another way to specify just how many people you're inviting is on your RSVP cards. Some brides will add a line saying "2 seats have been reserved in your honor," to let a guest know that they are being invited with a plus one. So, if you're inviting a single person with no guest, you can make that note with "1 seat has been reserved in your honor."
Even with an RSVP card that leaves little room for interpretation, you may STILL find you're being asked if someone you didn't initially invite can attend. As with any other wedding-related concern, it's important to act with understanding, empathy, and civility. Explain to your guest the reality of the situation – you've already told the venue how many people will be coming, or you're limited in the amount of people you can invite (you FH has a HUGE family!), or you're trying to keep the guest count small so you can share an important milestone with those who mean the most to you, and you hope that they understand.
If a guest has asked you for a plus one early enough in the planning process, you can always leave it up to fate. Many brides will get a lot more "no's" than they anticipated, and find they're below the minimum required guest count once all the RSVP's have been returned. You can always tell an invitee who wants to bring someone to wait until you have your final numbers, and if you have room, you'll let them bring an additional guest. As always, whether or not you'd like to do this is completely up to you. It's your wedding, and your happiness is the most important.
Yes, it's an annoying request to receive, especially after all the work you've done and the money you've paid. Stand firm in your decisions, but remain respectful in your communication. Your guests will be sure to have a blast, whether they've brought an extra friend or not!