Any one of these photo or video vendors will create great wedding memories.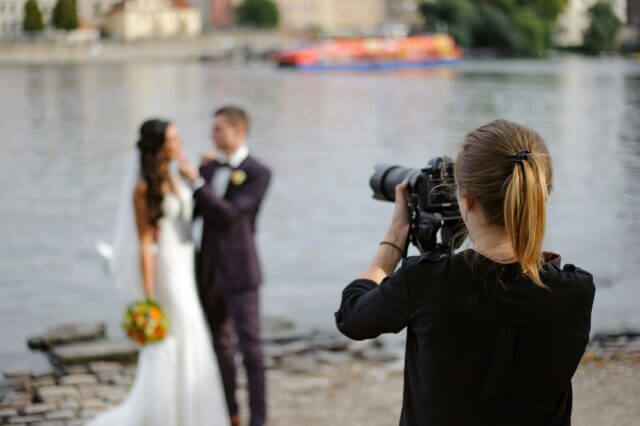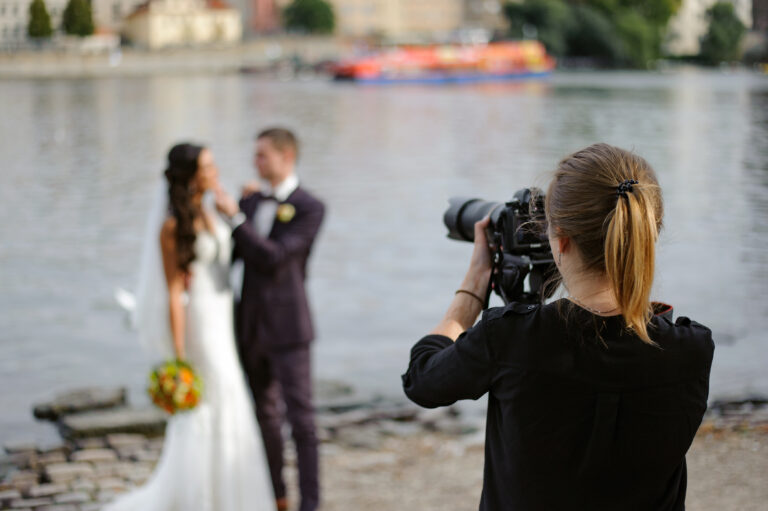 The photographer and/or videographer is one of the most important vendors you will work with during your wedding. They will be documenting your big day so you can look back on the best day of your life with fond memories. So, it's important that you choose the right one. Someone that you will jive with. Someone who's style will best match yours and everything you envisioned on your wedding day.
But there are so many to choose from! Where do you begin? Well, you're in luck because Brides of Long Island has some of the best photographers and videographers as our BOLI Preferred Vendors. With the list below, you are bound to find someone great to work with.
ADA Studio
At ADA, photography is more than just a job. It's sharing an intimate and special day with you, and creating photos to capture those moments that you'll treasure forever.
Anecdote Photography
Capturing your chemistry is what Anecdote Photography does best. This former journalist turned wedding photographer is here to document your wedding day through photos.
Belinda Video Productions
Belinda Video Productions can't wait to create the perfect wedding film for you. From natural sound and drone footage to your personalized music selection, they take the time to make your big day last forever in video.
Bernard Alexis Photography
Bernard Alexis wants to help the start of your next journey in life. Celebrating two people's love is pure magic, which is why he can't wait to capture all of your special moments.
Capture the Moment Studios
Located in Hauppauge, Capture the Moment Studios is a boutique studio that offers great attention to every detail of your wedding. They love to get to know couples, so that on their wedding day they can capture all of your special moments. They offer photography and videography services.
Castellanos Cinema
Castellanos Cinema offers a modern-traditional style with a magazine-like quality. They ensure all wedding moments are captured to create memories in photos and videos that will last a lifetime.
Elise Margolin Photography
If you're looking for more relaxed, natural photos of all aspects of your wedding day, Elise Margolin Photography is perfect for you. Elise wants to hear your story and then recreate it in your photos.
Fade to Black New York
A former news photographer, owner Gil started Fade to Black New York 14 years ago. They have a studio in Mineola. He runs the business, which offers both photography and videography, with his sons. Gil says Fade to Black New York photographers and videographers offer a candid and photojournalistic approach to your wedding.
Fine Art Photography & Video
This family-owned photography studio has been in the business for over 35 years. The photographers at Fine Art take great pride in their attention to detail to create magic on your wedding day.
Fireside Sparrow Photography
Stephanie at Fireside Sparrow wants to get to know you! She wants to hear your story, and she can't wait to capture more of your story on your wedding day.
Gelfman Photography
This boutique photography studio is run by a very much in-love couple (they recently got engaged!) who can't wait to share in your love on your wedding day. They want to be friends so you are comfortable, relaxed and stress-free on your wedding day.
Heartfelt Studio
The photographers and videographers at Heartfelt Studios live, eat and breathe weddings. They are a close-knit studio (their kids even play together) – and they can't wait for you to join their family and share your special day with them!
MORE: Learn more about Heartfelt Studio
Hearth & Oak Photography Company
With 15 years experience, Hearth & Oak Photography is veteran and first responder owned. They care about you and about capturing those special memories that will last a lifetime. They are grateful to be able to create a legacy on your big day.
MORE: Learn more about Hearth & Oak Photography
JS Vision Photography and Cinematography
Established in 2012, this full service boutique studio prides itself on the most stunning photos on your wedding day. Located in Garden City, JS Vision Photography and Cinematography will capture your memories in photos and on film, taking both a journalistic and candid approach on your big day.
Life Art Photographers
Since you're spending most of your day with your photographers, why not get to know Life Art Photographers? With over 15 years experience, they embrace the chaos of a wedding day and bring out the best in you and your significant other through their photography.
MORE: Learn more about Life Art Photographers
Lighthouse Photography Dream Weddings
Founded in 2007 by a husband and wife team, Lighthouse Photography Dream Weddings offers the best in photographers and videographers. They have two convenient locations in Port Jefferson and Huntington. They can't wait to share their passion and creativity with you on your wedding day.
LI Party Photos
LI Party Photos can't wait to tell your love story through their lens. They take the time to get to know each couple and get each story perfect on their wedding days.
L. John Morelli Wedding + Event Films
L. John Morelli has been shooting weddings and events for over 30 years. He makes the important task of filming your wedding an easy and smooth process. He has over 3,000 weddings under his belt. And he graduated from NYU Film School.
Michael John Photography
If you believe in true love, romance and enjoying life to the fullest, then you have something in common with Michael of Michael John Photography. He will be there to lean on during any stressful moments of wedding planning and during the big day. And he promises to deliver beautiful and amazing photos capturing all of your precious moments.
Miralli Photography
This unique boutique experience starts with a fun engagement shoot and includes a discreet, yet thorough, documentation of your wedding day.
Never There Yet Photography
Grab a cup of tea or coffee and chat about your wedding details with Heather of Never There Yet Photography. She can't wait to tell you how she'll tell your story through photography!
New York Wedding Films
Alex and Alex of New York Wedding Films know how intimate a wedding can be, so they take the time to make sure they capture it without invading your privacy. The crews stay in the background while filming what they need to make the perfect wedding film.
Park Ave Studio
Park Ave Studio, located in Ronkonkoma, has been in the wedding industry for almost 30 years. They can't wait to work with you and set up your wedding day timeline. Whether they are photographing or videoing, their style is casual and light to keep your day stress free.
Patken Photographers
Started in the basement of their home in Lindenhurst, Pat and Ken created Patken Wedding Photographer and Video. They hired their son Doug to take the business full time. And now they are one of the leading photography and cinema companies in the wedding industry. And while Doug has won awards for his work, the most rewarding moments are the emotions and love he feels at weddings.
MORE 40 questions to ask when choosing a photographer
Photography Boutique LLC
Betiana, of Photography Boutique, was a former magazine editor who fell in love with wedding photography at the first wedding she shot. She loves to capture the real emotions on that special day.
RF Films | Photography
RF Films wants to visually narrate the poetry of your story. This former television producer put aside the fast-paced TV environment for the fast-paced and beautiful wedding industry. And he's ready to tell your story.
Silverfox Studios
If you want relaxed, candid, authentic photos or videos, Silverfox Studios is what you're looking for. At Silverfox, you'll be treated like a star and get the 'Silverfox experience.' Following in the footsteps of his grandfather, the 'Silverfox,' John takes the time to get to know you as a couple and bring out the best in both of you.
Stephen Mayo Photography 
Stephen Mayo takes the time to learn about you and your future spouse as a couple. They learn what you want and need for the big day and make sure you get it.
MORE: Read more about Stephen Mayo Photography
Studio 27 Photography
From the moment you walk into Studio 27 Photography, you are family. They pride themselves on being professional and giving you the best photos and videos, while at the same time making you feel at ease and at home. They believe in order to capture those real moments, they need to make you feel comfortable.
Studio Nichole Photography
Nichole wants to be the storyteller of your life's most treasured moments! She takes the time to get to know her couples so she can tell their story through her lens.
The Glenmar Studio
The Glenmar Studio is a family owned and operated photography and videography studio that has been around for over 80 years. The photographers love to capture those candid moments, as well as create timeless portraits.
Tino Photography
Tino Photography will create a documentary-based illustration of your wedding day. They promise to deliver photos that will live on for generations.
Tony Lante Photography and Cinematography
From a large weekend celebration to a small gathering at city hall, Tony Lante Photography and Cinematography is ready to capture all of the moments on your wedding day. Tony believes wedding photography is a vision created by his clients as well as the photographers.
Yellow House Images
Andrew, owner of Yellow House Images, used to be a full-time journalist. As his friends started getting married, he would put together videos for them. He believes it is an honor to work with you and provide photos and videos of your special day.
So, make your list of how you envision your wedding day and reach out to any one of these photo and video vendors. As with any Brides of Long Island Preferred Vendor, you're guaranteed to be in great hands!