From your engagement to the big day and everything in between, Alpha-Lit Letters adds a magical highlight to all your wedding events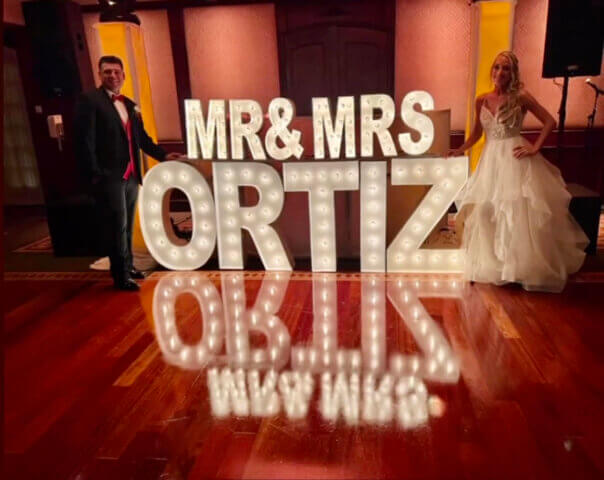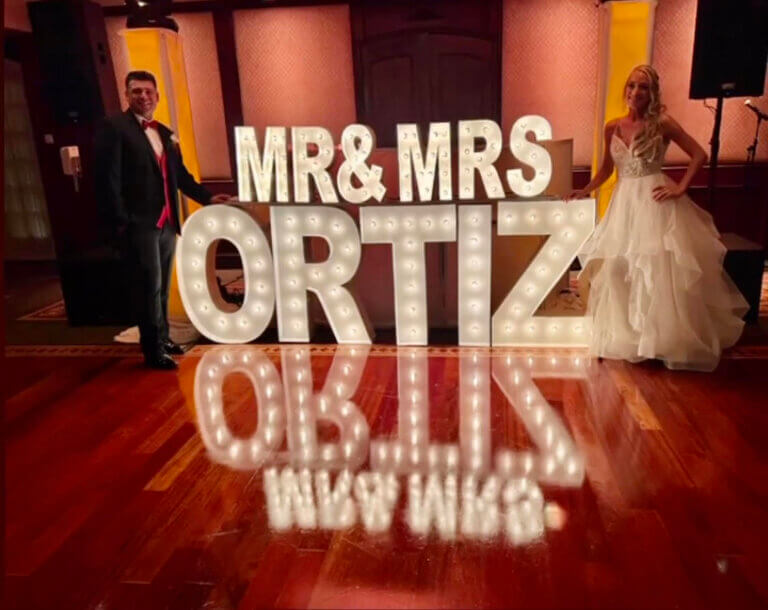 There are plenty of ways to make your wedding special: choreographed first dances in beautiful Gold Coast mansions, elaborate floral centerpieces with beautiful seasonal blooms, and that intricately beaded mermaid gown you've had your eye on for years, just to name a few.
But even with all the typical bells and whistles you can think of, you might be looking for a unique way to make your wedding (or bridal shower, or bachelorette party) really "pop." Long Island's newly-opened Alpha-Lit Letters has your solution, with truly personalized marquee letters celebrating your love, excitement, and new last name!
"There's not really much that's like this on Long Island." – Alpha-Lit Letters
For Brian and Marissa Goll, the husband and wife team at the helm of Alpha-Lit Letters' Long Island location, a shared entrepreneurial spirit kicked in when the pandemic hit. "My best friend used to work for one of the top wedding planners in Dallas, and had used Alpha-Lit Letters multiple times for events down there," Marissa remembered. The marquee letter business, born out of the Lone Star state, was beginning to open franchises across the country. "My husband and I are always trying to find something that would be really cool in New York, and after doing some research when COVID hit, we thought, 'you know, there's really not much that's like this on Long Island.'"
The two decided to take the plunge and invest in their own franchise. COVID made things slow at first, but then business began to build. "We noticed there were a lot of 'drive by' events happening," she noted. "We're like – okay, let's elevate the traditional lawn sign, and build it with lights. We started with small birthday parties, then went into baby showers and bridal showers," she described. "We began to realize that these lights can really be used for any occasion. We've been hitting the ground running ever since."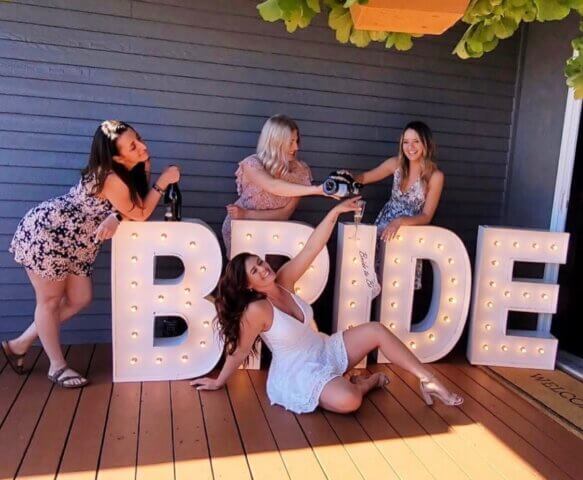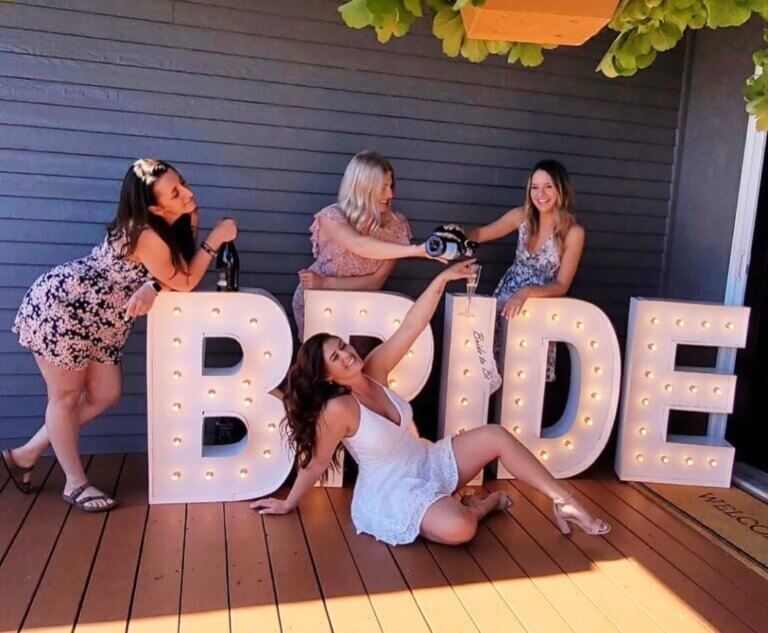 "They've just been such a showstopper." – Alpha-Lit Letters
Brides looking for something remarkable are in good hands with Alpha-Lit Letters. "I think the most special thing for brides is seeing their name in lights," Marissa remarked. "We also have toppers that say Mr & Mrs, Mrs & Mrs, and Mr & Mr with their last name. Anything is possible with our lights. We've got plenty of inventory, and we can customize anything that the bride or groom wants to have at their wedding."
Unlike a lot of marquee letters, Alpha-Lit Letters can be built on top of each other for monumental effect. "We can actually stack our letters into two levels, which creates a six and a half foot display," Marissa described. "We can go from three feet tall to six and a half feet tall. If you use our numbers, they're a little bigger, so displays can get up to eight feet tall."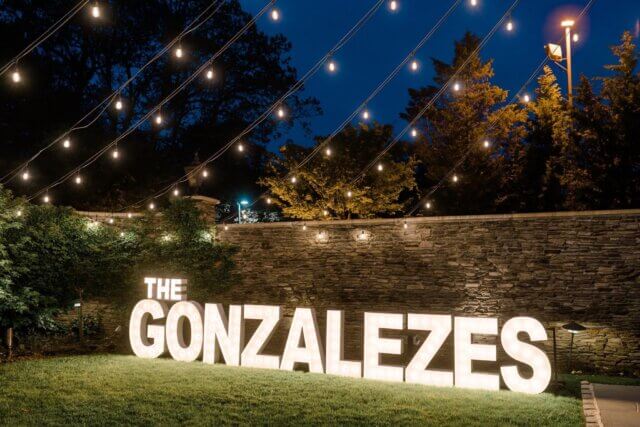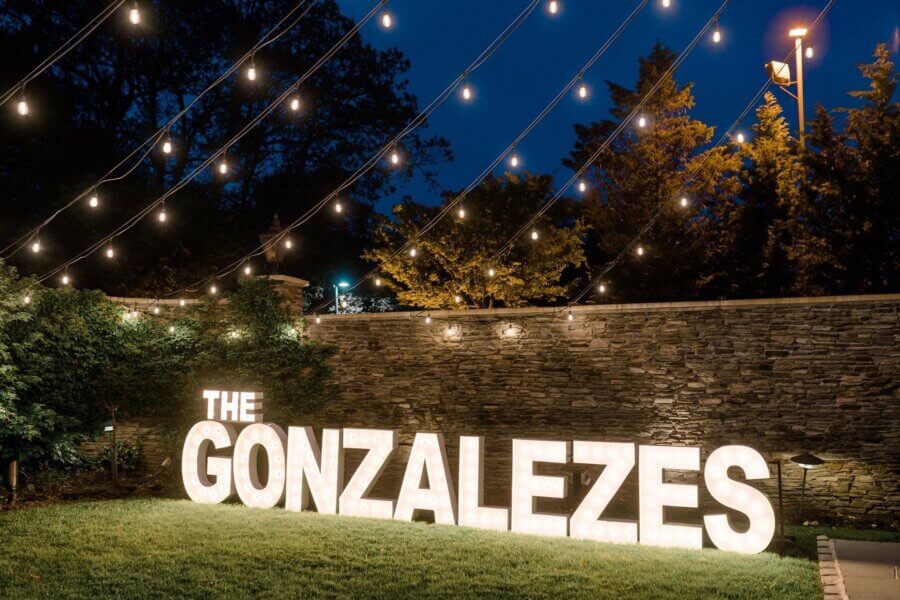 Since Brian and Marissa pride themselves on excellent customer service, booking your custom marquee letters with Alpha-Lit is a breeze. "We try to make it as stress free as possible," Marissa commented. "The bride books with us, and we kind of take it from there, with communication back and forth as needed. We work with your venue, we bring in our team and talk about when we need to set up and when we need to break down. Leave the logistical stuff to us, we kind of do everything.
"All brides need to do is show up, see their display, and say 'wow.'"
For newlyweds and guests alike, Alpha-Lit's personalized marquee letters give everyone something to talk about. "Whether they're on the dance floor, whether they're outside the wedding venue, they're a statement piece and an awesome photo op," she said. "They've just been such a show stopper. The best feeling for us is when we pick [the letters] up at the end of the event and our customers say 'this made our night. This was the most talked about thing at our wedding.' We love hearing that."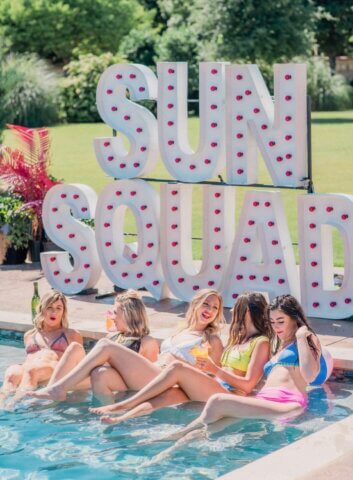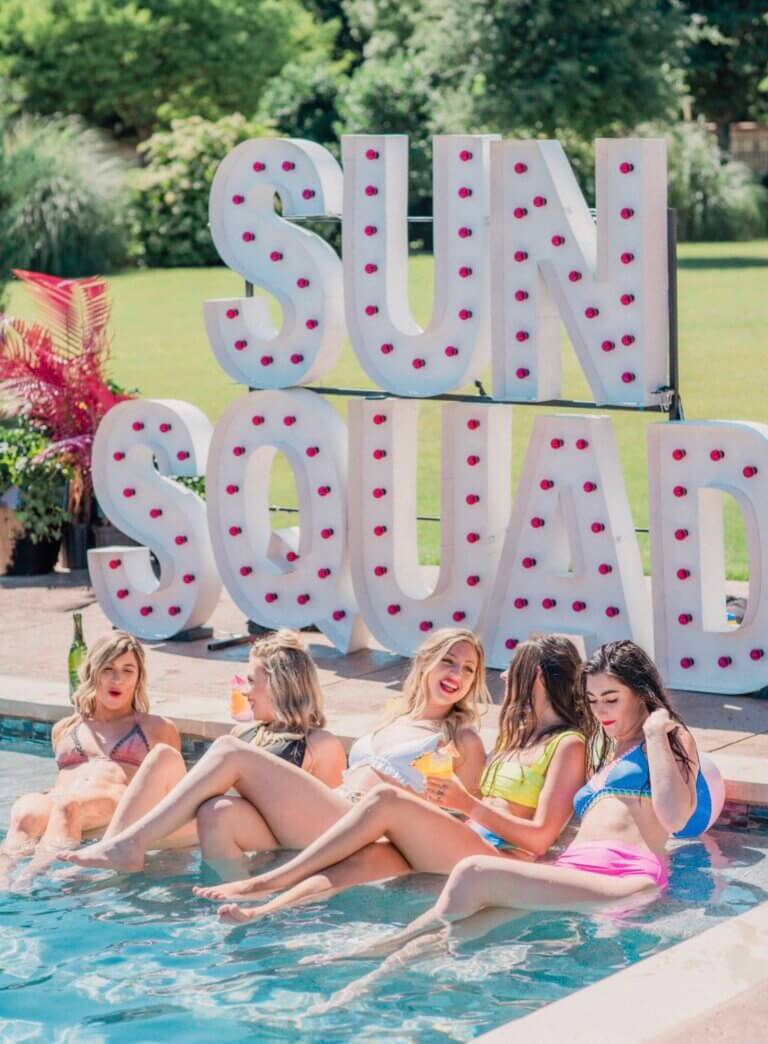 "We can take it to the next level and customize." – Alpha-Lit Letters
Alpha-Lit Letters make an illuminating addition to your reception, but they can also bring something extra to every other wedding event you have planned. "From the start of the engagement, to the engagement party, to the bridal shower, to the bachelorette party, we can do anything," explained Marissa. "It's not just your typical 'bride' or 'love' or 'Mr & Mrs.' We can do those obviously, but we can take it to the next level and customize based on whatever you want to do. We just did a bachelorette by a pool, and had letters that spelled out 'last splash.' That's what makes us different from any other marquee company that could be out there."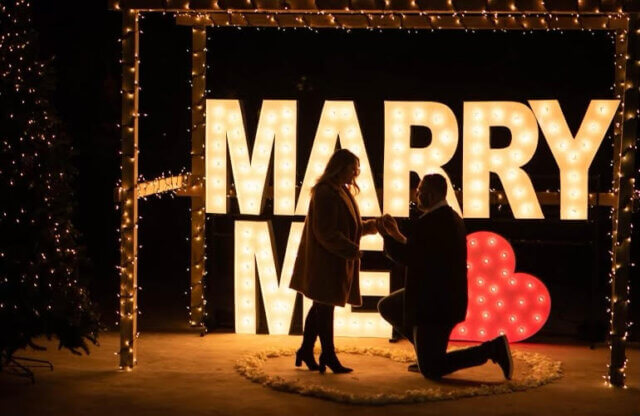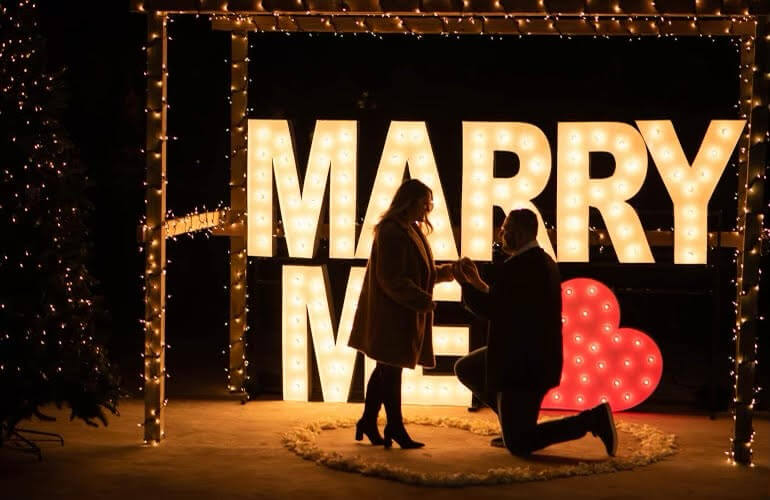 Brian takes a special interest in the moment that begins it all. "My husband loves working with the guys when they're trying to plan their proposal, it's his favorite thing," she gushed. "I love when fiances reach out and they have this crazy idea in their head. And [Brian] loves working with the event planners to put it all together."
"We're detail oriented. We're perfectionists." – Alpha-Lit Letters
For brides-to-be planning their big days, Marissa has some sage words of advice. "If you know you want something, book your vendors now." Rescheduling from COVID-related cancellations has left many wedding professionals with few remaining dates, and Alpha-Lit Letters is no exception. "We are a husband and wife, a small business that operates everywhere from Nassau to the Hamptons," she described. "We don't just do weddings, we do pretty much any event out there. We are a small team and really try to do all that we can to accommodate the date, time, location of your event. But if you want to book us I would say do it earlier rather than later."
Those lucky enough to book Alpha-Lit Letters have a lot to look forward to, with unparalleled customer service along the way. "We love creating that 'wow' factor at any one of your special occasions," commented Marissa. "We're easy to work with, we're detail oriented, we're perfectionists. We want to make sure your letters are a showstopper at your event."