On October 19th, many brides left their inhibitions at the door for Alli Murphy Photography's Mansion Experience. Now, Alli Murphy prepares for 2022 with an incredible Black Friday opportunity – especially for Brides of Long Island!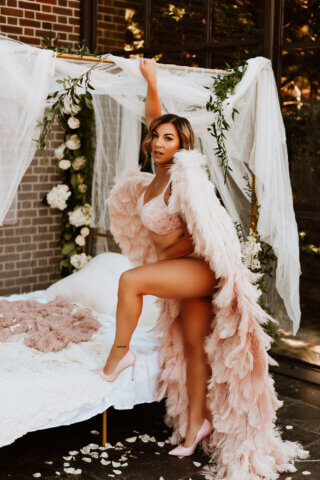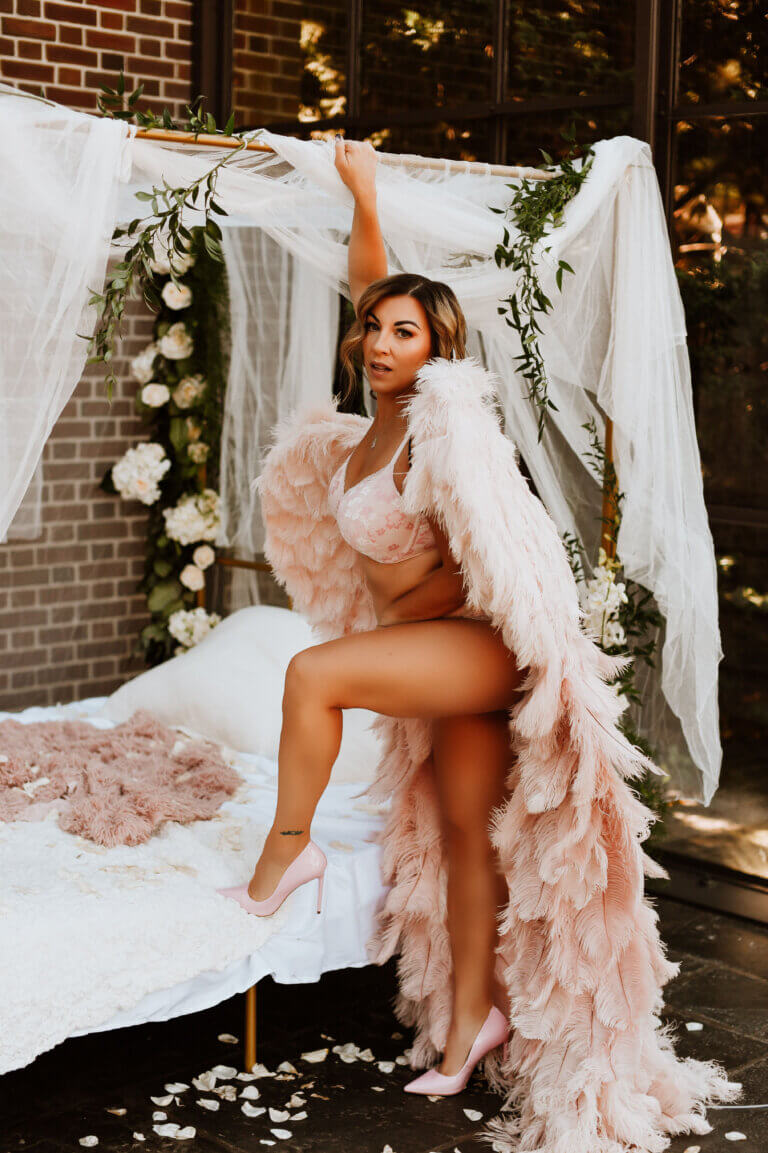 The team at Alli Murphy Photography, a Brides of Long Island preferred vendor, has a penchant for the grandiose – from their opulent and breathtaking boudoir shoots (a perfect gift for your future husband), to their boundary-breaking innovations and events.
One such innovation came to light on October 19th at the de Seversky Mansion, when Alli and her cohort of trusted partners transformed the Gold Coast estate for a photography experience fit for royalty. Whether it was choosing long gowns or lingerie (or both!), or sharing the experience with their friends and fiancés, every detail of the experience was curated by the clients themselves – many of whom were brides. Born from an idea that struck as Alli planned her own wedding, the Mansion Experience lived in the planning stages until it could be brought to perfect fruition. Gathering inspiration and effort from the industry's top professionals, the event was all about fulfilling Alli Murphy's mission: making clients feel amazing about themselves, and showing their innate beauty through her lens.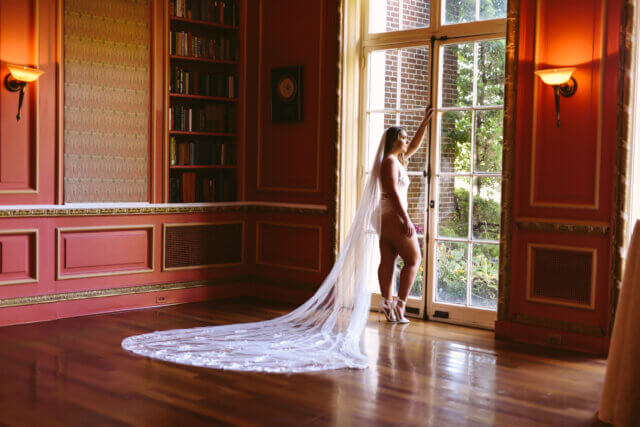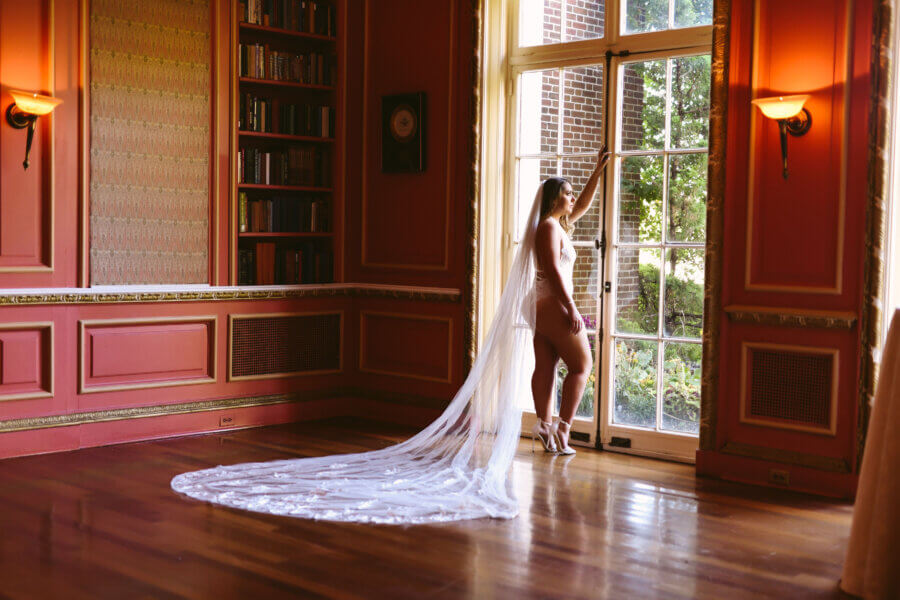 Upon arrival at the de Seversky, the energy was palpable. Excitement and laughter over champagne and pastries was accompanied by a thumping soundtrack from Ivan Galarza of Drive Up DJs. Every aspect oozed grandeur and extravagance, and it was all captured in real time by AJ Ingoglia Films.
Each client was met by one of three coordinators from Eventful Days, in charge of making the day run smoothly. With swift precision they directed everyone to a team of ten hair and make-up artists, headed by Oh La La Hair and Darian Marie Makeup. Framed by ring lights, curling irons, and make up brushes, women were transformed into their most stunning selves.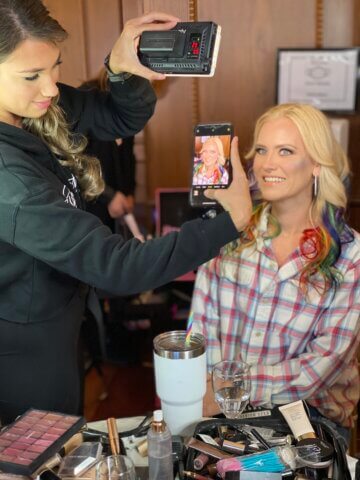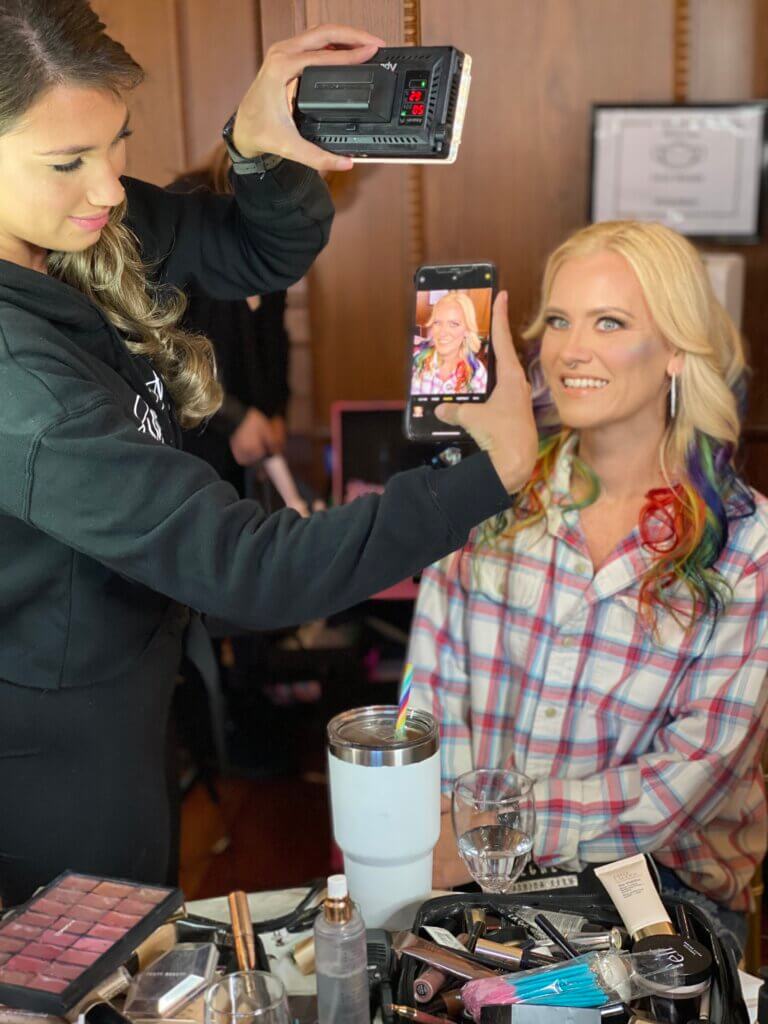 Once glam sessions were complete, each client slipped into a silky pink or floral robe and headed to their next stops: a rack of gorgeous gowns provided by Bridal Reflections, a table full of intricate headpieces from Christie Lauren, and a collection of lacy and delicate intimates from Gagné Lingerie (a BOLI preferred vendor).
Clients were also told to bring some favorite pieces of their own. But for bride Cassandra Olivos, whose fiancé joined her for the experience, seeing the possibilities in front of her inspired a little last-minute spontaneity. "We weren't initially planning to do lingerie type things, but there was a bridal set, so we said, 'Okay, let's just do it,'" she said.
"We kind of both went out of our comfort zone."
After wardrobe selection was finalized, it was time for the main event – a photo shoot of truly epic proportions. Whisked away to various rooms of the mansion, clients were shot by Alli and her team of top-notch photographers. As if the scenery of the breathtaking de Seversky wasn't enough, the shots were amplified by intricate flower walls provided by Long Island Flower Wall Co, beautiful floral and candle arrangements supplied by Pedestals Floral, a lounge set and vintage decor from Tailored Fox Events, a vintage flatbed scene, an Aperol Spritz Bike, and a Gelato and Espresso truck from Dolce & Gelato Catering (a BOLI preferred vendor), and exotic cars from Blustreet Exotic Rentals.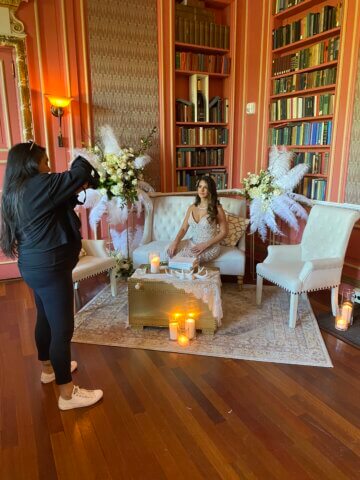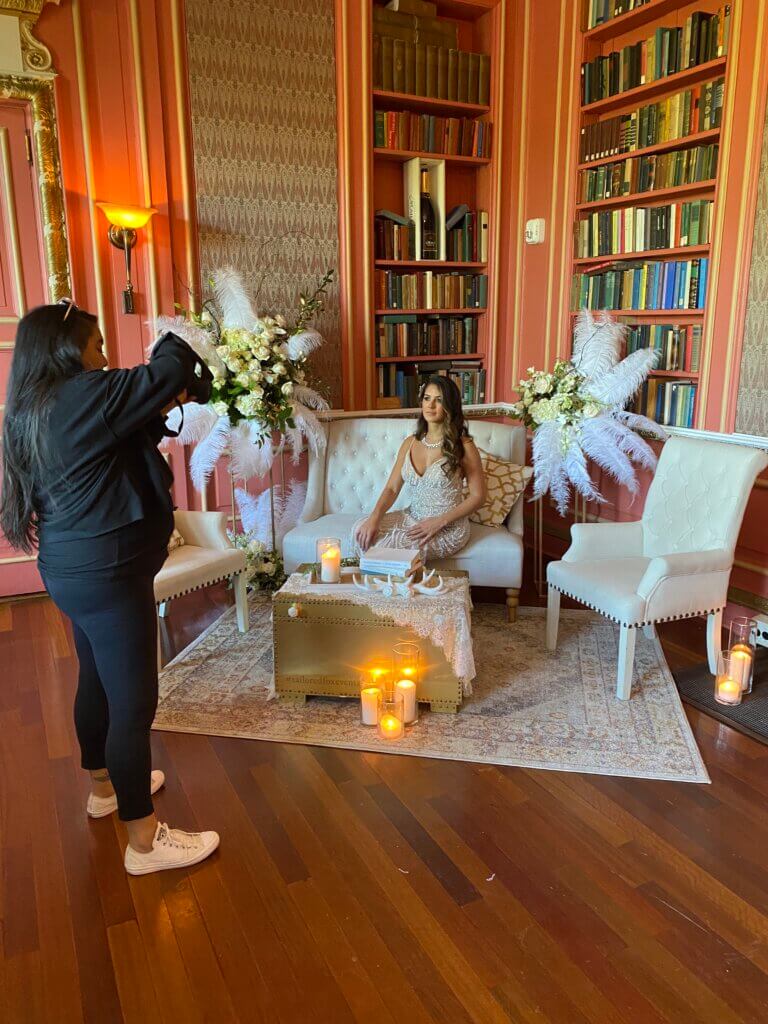 The day of pampering didn't end with the shoot. When clients had captured all their most beautiful and unrestrained moments, they were treated to massages from Lineesa Ramadhin, LMT, a photobooth with keepsakes from Photo Envy, and a gift bag with prizes and items from over 30 local vendors like WOW Beauty, who provided over $1,000 worth of product and gift certificates.
For brides who spend a lot of time in front of the camera – from engagement sessions, to dressing room selfies, to hundreds of pictures as your dress gets altered – the day provided a decadent escape from the ordinary. "For our engagement shoot, we were running through Lake Placid," Olivos remembered.  "We were in casual clothes. This, we got to be dolled up and I got to be in gowns. I felt very comfortable and at ease. The whole setup was really cool."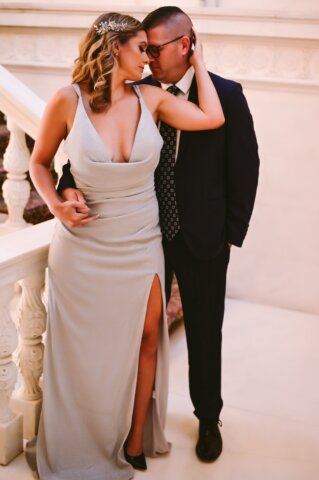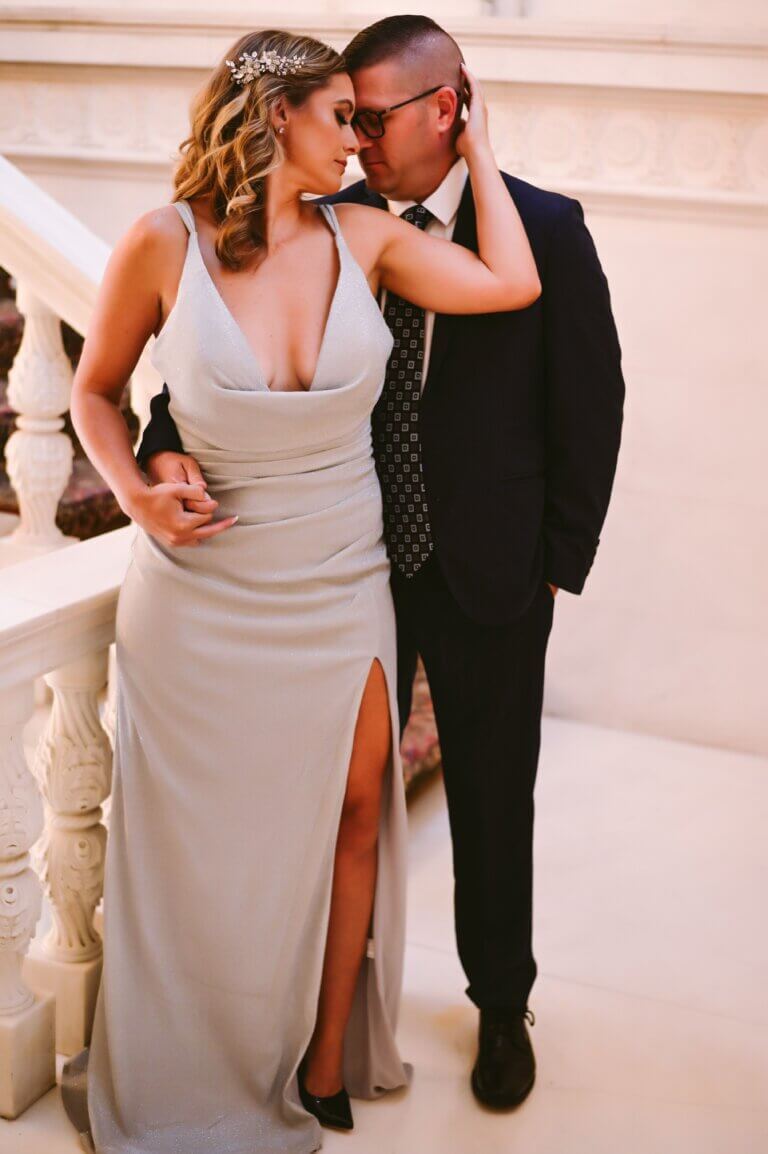 While the Mansion Experience was incredible for every client that walked through the de Seversky's doors, it also proved just as incredible for Alli Murphy's valued partners. "It's really great to see all the vendors and the community come together for a great event," said Stephanie Davinger, owner of Photo Envy (and an original BOLI member!). "I was excited to meet all the new brides that are coming in. It's a huge thing to be a part of."
Don't worry if you weren't able to take advantage of the de Seversky shoot, because the team at  Alli Murphy Photography is constantly working to create new and groundbreaking experiences. "We strive to offer our clients unique and exciting shoot opportunities,"  says Elizabeth Woodward, Marketing Director at Alli Murphy Photography. "Our boudoir shoots are anything but typical. There's something for every woman, and we have more incredible events in the pipeline that you won't want to miss."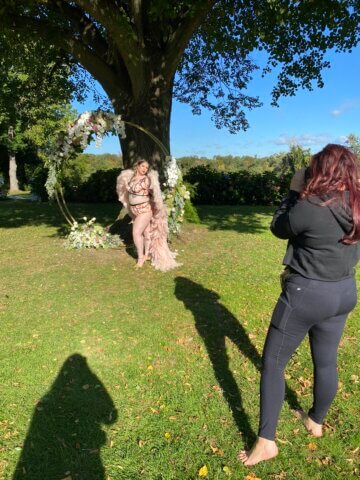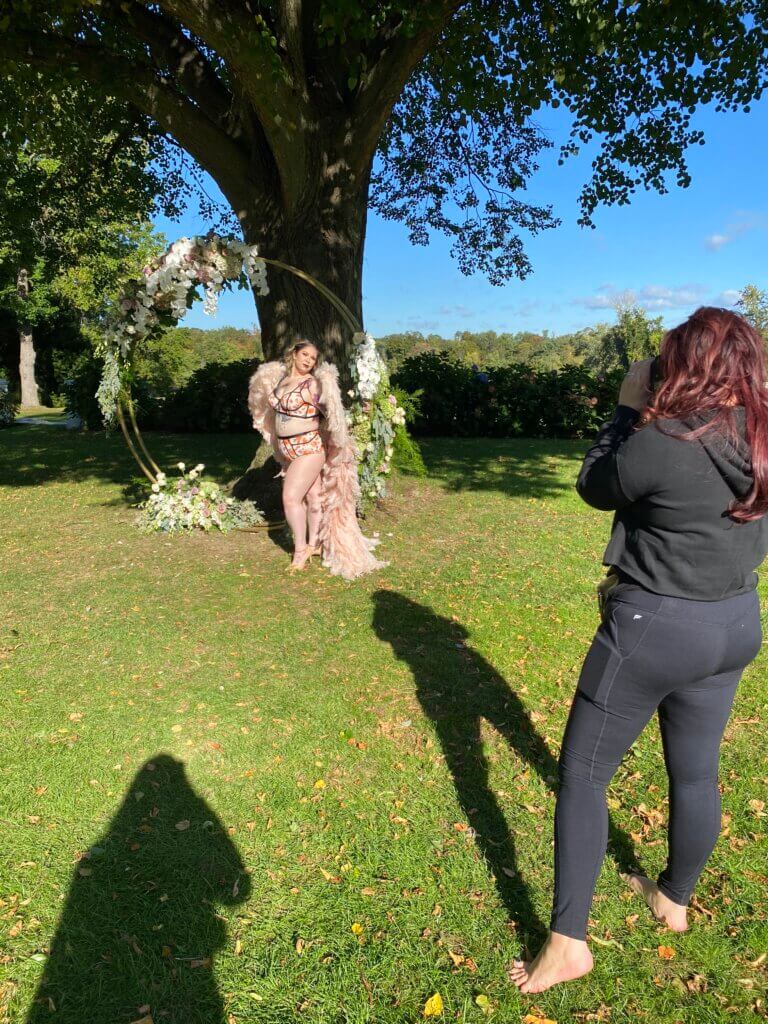 Alli Murphy Photography's Black Friday Event
Alli Murphy Photography is looking forward to a very exciting 2022. And to celebrate, they're extending a special Black Friday opportunity for all Brides of Long Island! Book a shoot with Alli Murphy Photography from now until Thursday, December 2nd at 11:59pm EST, and you'll receive*:
$0 Creative Fee
Deep discounts on all photo collections
Reduced minimum purchase
Free theme of the month
One free shoot add-on (like wings, shower, or an additional outfit!)
Click here to book your own day of decadence! *Valid on new appointments only All images courtesy of Alli Murphy Photography