What does all of this extra time together mean for your relationship?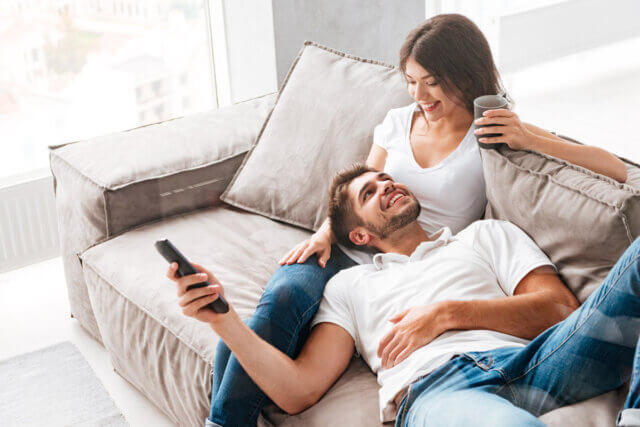 The coronavirus has changed so much of our daily lives. These days, we practice social distancing as naturally as we practice personal hygiene. Aside from the occasional trip to the grocery store or a daily walk with your dog around the block, we are all spending our time safe inside of our homes. If you live with your significant other, this translates to a lot of extra one-on-one time together. If you are accustomed to splitting up your relationship time between work and seeing friends, this new change may be a lot to handle. However, there are plenty of ways that your relationship can benefit from this situation.
Lean On One Another
Obviously you already lean on your partner for support, or else you likely wouldn't be in a relationship with them, but during this pandemic you are leaning on them, and they are leaning on you, more than ever. Think about it, we can't socialize with many people these days, at least not face-to-face. Suddenly, your partner is your default go-to to fulfill all your support needs when usually this support comes from a variety of people. With concerns of catching the virus aside, these are very stressful times. Working from home may be a new adjustment for many, missing out on friends and family member's birthdays and special occasions, and financial strain and uncertainty is a lot to deal with.
Keep in mind that everyone handles stress differently. What works for you may not work for your partner, and if you don't already have this figured out you likely will by the time this is all said and done. Acknowledge both of your differences and compromise so that you are both equally working to meet one another's needs during this time.
Household Chores and Appreciation
Is it just us, or are dishwashers working in overdrive these days? Since we are home 24/7, the chores just keep piling up. How does this new normal affect your household duties? How are you and your partner delegating tasks? Take the time to have a conversation about who does what to make this transition as easy as possible. While chores are never fun, the surplus of them may in fact increase the level of appreciation that you have for your partner. When you see your partner doing things that they may usually not have time for, such as making the bed or helping clean up after dinner, you may feel a deeper love for what he/she brings to your life.
Communication and Honesty
Combine having very little time away from one another with living in close quarters, and any relationship is bound to have its moments of bickering. Being together 24/7 certainly heightens any quirks or challenging personality traits of your partner that may irritate you. So when your partner leaves his candy wrappers on the coffee table, or when you do whatever thing your partner finds annoying, it's time to communicate intentionally. Instead of speaking in terms of blame and defense, try communicating your needs, wants, and expectations more constructively. Looking for solutions to what isn't working and compromising is much more effective than jabs, eye rolls, and mumbles under your breath. You will likely come out of this quarantine with a stronger relationship if you commit to being honest about what bothers you and offering practical solutions to fix these issues!
Remember Why You Love Them
As much as it sucks to be stuck inside with nowhere to go, this is a great time to remember what truly matters in life. At the end of the day, what's really important is being with the ones you love doing simple, every day things. Use this time to get creative and think of new ways to keep yourselves entertained. Work together to paint that spare room or plant some new flowers in the garden. With all this extra time on our hands, those task that may have been low on the priority list are now able to be tackled. Being forced to slow down allows us the opportunity to have fun doing little things that we may have previously taken for granted. Have fun with it and don't be afraid to be silly together! In the process, you'll fall in love all over again.
When the smoke clears and these uncertain times come to an end, may we all have a newfound appreciation for life, health, and our partners.