Our world has changed – your wedding might have to as well.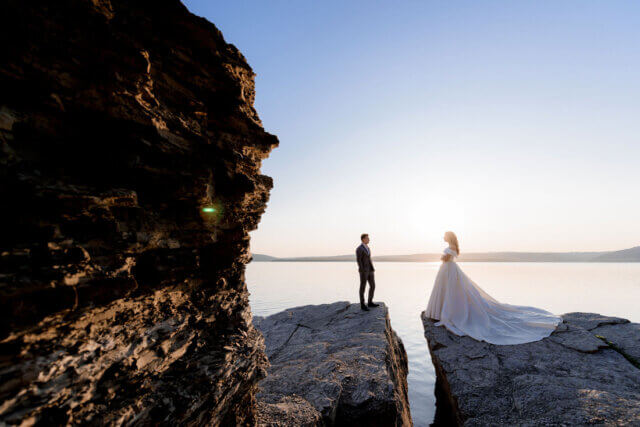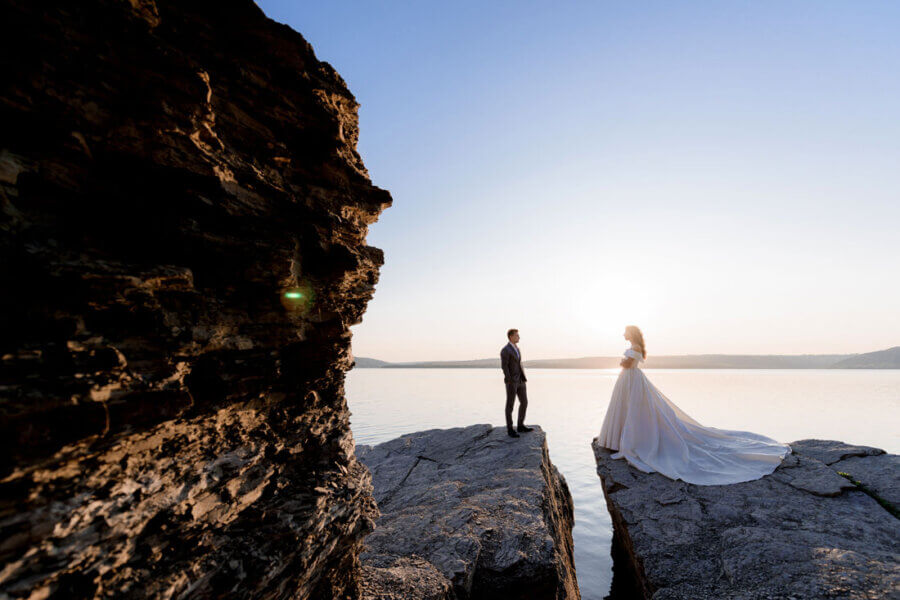 Everywhere we look, there's an article telling us what we already know: COVID-19, the illness caused by the novel coronavirus, has altered life as we know it. Never before has our generation witnessed the mass shut down of not only our nation, but the entire world. We now have to constantly think about things we've never even noticed before (we touch our faces A LOT) and change almost all of our daily practices (no more shaking hands when you meet that new employee at the office).
With so much in our lives having to shift dramatically, it's safe to say that we'll have to look at any large scale event in a different light for the foreseeable future. There are a few new things you'll need to keep in mind while planning your big day:
Your guest list and seating chart
Most of us have friends and loved ones who span a wide range of ages and abilities. You may have to make special considerations to ensure the safety of your guests that fall into high risk categories (like those over 60 and/or with underlying health conditions), especially if your wedding is scheduled to take place within the next few months. Take a look at your seating chart. Is it possible to add tables and seat fewer guests at each one to facilitate more social distancing? Or, can you remove tables to add more space?
Your minimums
When you picked your venue, you might have thought it would be totally easy to hit your minimum. However under the current circumstances, many are hesitant to be in large crowds or to travel, not wanting to expose themselves to others who may be ill. If your wedding is scheduled for this year, you may find you have a greater percentage of "no" responses to your RSVPs than you expected, especially from guests in high risk populations or who live far away. Try not to take this personally- while it's sad that some may choose not to attend, know that it's because they're worried about their health and the safety of their families. If you're concerned about falling short of your minimums, talk to your venue. Most are incredibly understanding about the issues we're all facing right now, and may be willing to work with you or throw in extras at no additional charge.
Your gifts
While COVID-19's impact on public health is obviously enormous, it's impact on the economy is just as notable. This pandemic has left millions of New Yorkers unemployed, while others have seen their salaries cut or watched their retirement dwindle. Many of us are feeling the pinch in our wallets as we try to navigate these uncertain times. You may notice that this feeling translates into your guests' generosity when approaching your card box. Others may not come at all because they aren't able to give a gift they feel is appropriate. Again, don't take this personally- realize that this is an incredibly stressful time for everyone, and that the guest who gave you a smaller check than you expected may be worrying about how to pay their bills next month. Remember that the most important part of a wedding isn't the gifts you receive, it's celebrating the love you have for your partner.
Your bachelorette
In the past, a bachelorette party might have meant a big, blow out weekend, with travel to some exotic locale or quaint spot elsewhere in the country. This outbreak has made many want to avoid non-essential travel, and forced governments to close popular hot spots until we're on the other side. You may need to make adjustments to your bachelorette plans: if travel is in the mix, make sure your destination won't be on a "pause" similar to what we're experiencing in New York. Check in with your bridal party to get a gauge on whether they're comfortable, from both a health and economic standpoint, on following through with any previously made plans. Consider a more local party, or postpone your outing for a date several months out.
Your venue and reception
Nothing says "wedding" like a packed dance floor, with drinks flowing and music blaring. But with "social distancing" being a key phrase right now, you may find that most guests would rather stay on the side lines. If you're starting to shop for venues now, it may be a good idea to go for a slightly bigger space than you originally intended (if it's in the budget), to allow your guests to have more room and more ability to be at a safe distance from others. Your wedding may be months or years out, but it's always better to be on the safe side (again, only if your budget allows). If you've already committed to a venue, take a look at the floor plan and see where you could potentially make some space: can you move some tables away from the dance floor? Can you go for a smaller DJ package to increase some surface area? By creating more space, you could be making your guests much more comfortable and more willing to join the party.
While these are sad circumstances to have to face, remember: nothing can change the sanctity of a wedding. Not even a pandemic. No matter what changes you'll need to make to adapt to this new reality, your day will be nothing short of beautiful.