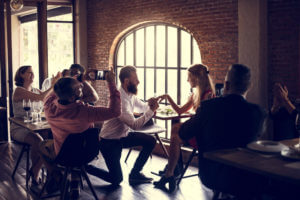 We already know what you are thinking.

Admit it, you have had your entire wedding planned out on Pinterest since freshman year of high school. But now you have that sparkly rock on your finger and your mind is racing. Here's some important wedding to dos to organize your thoughts!
Start Venue Research
There are 100's of wedding venues on Long Island. All of which have different looks, prices, and most importantly, available dates. Talk with your S.O. about what's most important to you and go from there. Don't forget you'll need an estimated headcount to insure the venue can accommodate your guest list size so have a rough idea before heading in. Keep in mind venues have different prices for different days of the week as well as different months. There are busy seasons and slow seasons so if you're on a budget you can potentially get that dream venue during their slower time of year!
Vendor Selection
Once you have your venue selected and your date secured you can start the hunt for your perfect vendors. We highly recommend you meet with multiple vendors within the same category to make sure you are really getting what you want. All vendors have different pricing, packages and a different style. Most importantly, check reviews! Brides of Long Island is a great place to do this as you can talk one on one with brides who have used Long Islands vendors. Be sure to read over all contracts and fine print so you know what you're signing up for!
Start Planning Your Vision
You don't need to have a theme per say but you should have a general idea on the look and direction you want your wedding to go. Many brides simply pick a color pallet and work off of that when selecting their wedding decor. This part can be very overwhelming but we promise it gets easier as all of the pieces start coming together.
Getting the Perfect Dress
Girl, Do.Your.Research. Search the internet, browse wedding magazines and get advice from other brides (like the 8k+ brides on BOLI). When you go to your first appointment try on ALL types of styles. You never know how another style will look and it's totally worth trying them all. Please keep in mind that some dresses can take up to 8 months to get in, so do not wait on this part! Many brides use this time to bond with their bridesmaids, so set up a fun lunch date after your appointments. Don't forget to bring different types of undergarments with you as well. Remember not to rush your decision but when you find her, SAY YES TO THAT DRESS!
Choosing the Bridal Party
I am sure you already have a rough idea on who you want to stand next to you on your big day but don't forget others you may not have thought of right away. Many times couples choose to include their future sister in laws and future brother in laws. This is a nice way to honor those new family members of yours! We recommend not announcing your bridal party too early into planning as sometimes relationships and circumstances change. Don't forget your sorority sisters, cousins, and childhood friends! Talk to your S.O. about their bridal party selection as well, its okay if you don't have the same number of VIPS.
Beware: Unwanted opinions ahead
Weddings are a wonderful time we promise, but they also come with some headaches and MANY unwanted opinions. No matter what your vision is, someone is going to want something another way. Remember to always stay kind to the input but don't feel obligated to grant everyone's wishes and requests. A simple "thanks I'll keep that in mind", is an easy way to get out of these awkward situations. You will not be able to please everyone, and this is not their day, its your's and your SO's, so do it your way!
Again, congratulations and enjoy the ride!
P.s. I didn't mean to rhyme as often as I did but it made me giggle, so I left it.