If the thought of being the spotlight is making you nervous, these tips will help calm your nerves.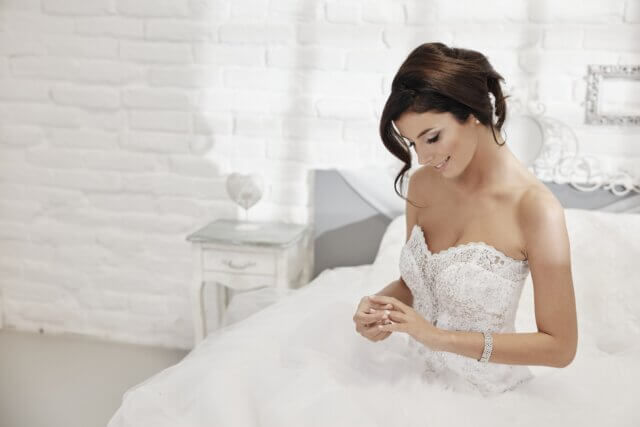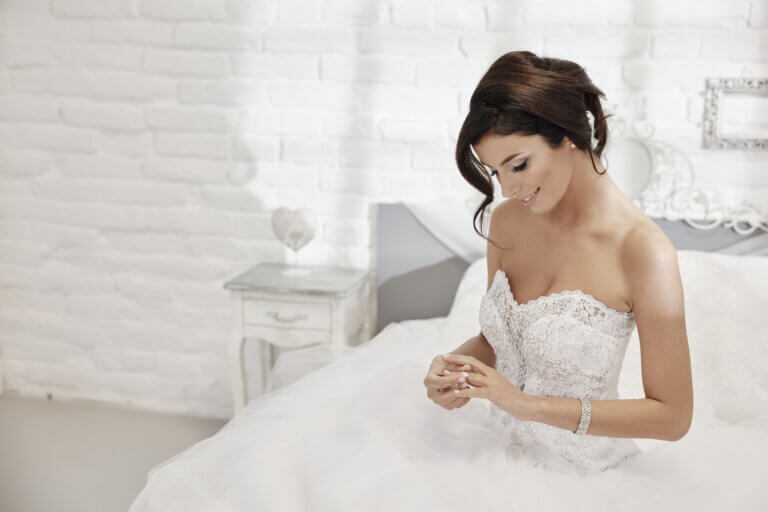 Some people love being the center of attention, while others like to leave the spotlight for others and just stay in the background. So, if you're a shy bride, how do you handle being the center of attention on your wedding day? The thought of everyone focusing on you can leave you very nervous. But there are ways to handle all of that attention, while also staying cool, calm and collected.
The Planning Process
Wedding planning can be stressful for every type of bride. But for a shy bride, making all of these decisions and speaking to different vendors can be even more stressful. For some, the thought of calling vendors puts your stomach in knots. So, what can you do? To start, most vendors and venues are very responsive to emails and texts. And now, many will meet with you virtually. Not meeting in person or making phone calls can calm those nerves and make you breathe a little easier. It takes the pressure off of making decisions on the spot, and gives you time to really weigh your options in the comfort of your own home with your significant other.
When it comes time for dress shopping, find a shop that caters to one client at a time. This way, you can focus on yourself and not worry about other brides being around. Most of the Brides of Long Island preferred vendor bridal salons offer this!
The Shower
For a shy bride, you probably can't fathom sitting in front of your friends and family opening gifts, while everyone oohs and aahs and shouts out 'Bingo.' Instead of the traditional shower, speak with whoever is planning it, and suggest a more low-key event. Perhaps guests wrap their gifts in clear wrap so that everyone can see what you got without you being on display. You can also keep your guest list to just close family and friends, so you don't have to mingle with tons of people.
The Bachelorette Party
Again, think low-key for this one. Perhaps just a quiet dinner. Maybe a paint night. Something where you're the center of attention to your besties, but not to the whole bar, club, town, etc. This way, you don't have random people coming up to you.
MORE: "It's a True Bachelorette Party!" DJ CHEF Brings the Party to Your Kitchen
The Big Day
Yes. All eyes will be on you. At this point, your fiancé knows how nervous you're going to be, but just make sure you communicate how important it is to keep you calm. Communicate ahead of time if there is anything you will need to calm your nerves. Also speak with your maid of honor and bridal party. Maybe someone can always be by your side to be your wing man or woman as you make small talk. You could even come up with a signal or a code word for someone to come to your rescue from a conversation.
Have a first look with your future spouse. This will keep you calm as you walk down the aisle. You won't be as nervous since you've already seen each other!
MORE: The Pros & Cons of a First Look vs. Meeting at the Altar
For the ceremony, ask whoever is officiating to keep it short. Keep with the traditional vows, as opposed to your own. Or even turn off the microphone and just say your vows to your significant other. Sure, people might be upset they can't hear you, but if the thought of hearing yourself over a speaker is nerve-wrecking, skip it. The day is about you and the life you're starting with your spouse. The vows are meant for the two of you!
Take breaks! Retreat to your bridal suite for a breather if all of the attention is really getting to you. It will allow you to take a breath, relax and get ready to head back out to enjoy your night.
Any moments that really put the spotlight on you – your first dance, father-daughter dance, cake cutting, etc. Take some time to figure out which are important moments to you. Those songs can be cut short – because let's face it, even outgoing brides get nervous thinking about swaying back and forth for 3-4 minutes with all eyes on them! That big reception entrance – skip it! Just have a casual flow from cocktail hour to reception. The cake cutting? Do it privately with your new spouse while the dance floor is packed. No one will notice, but they'll be thrilled when they get back to their seats with a delicious piece of cake waiting for them.
MORE: 7 alternatives to traditional wedding cake
Ultimately, remember you are in control! You can set the pace, expectations and the energy for your wedding day. The key word is communication. Let the photographer know you're not big on posing and get nervous. They'll work with you on a schedule that will get you the photos you want without putting stress on you. Tell the DJ to keep the party going without focusing too much on you.
And if the thought of having that huge wedding is still making you nervous, you can always keep it low key! Have a smaller guest list. Limit it to just close friends and family. The sky is really the limit with how to plan your wedding and getting what you want.
Treat yourself to some BOLI swag! Rock it as you plan your big day – it will give you all the confidence you need!