The annual Brides of Long Island Summer Soiree, the Black and White Ball, is set for July 28.
Calling all Brides of Long Island! Get ready to party at the biggest BOLI event of the year! Our annual Summer Soiree is back for 2022, and it will be filled with food, dancing and, of course, fun! The theme this year is the Black and White Ball, and, as always, there will be epic prizes and giveaways throughout the night.
New to Brides of Long Island? This event is a chance to take a break from your stressful wedding planning and meet and mingle with fellow brides. Sorry, there's no future spouses allowed, but don't worry, we're all family and look forward to meeting you.
What's Included?
You can dine and dance the night away at one of BOLI's preferred venues – the Heritage Club at Bethpage in Farmingdale. Plus, you'll get a chance to meet other BOLI preferred vendors throughout the night. Tickets are $89 and include admission to the soiree, delicious hors d'oeuvres and buffet stations, beer, wine, soda and our signature cocktail, as well as five prize tickets to use on our amazing raffles, donated by our preferred vendors! Who knows, you might even leave with your new bestie from the BOLI community!
What's This About Prizes?
We have incredible giveaways worth over $100,000, including grand prizes and swag baskets donated by local businesses. The BOLI team works hard all year to secure the prizes and you'll find out soon what they are!
MORE: See the Grand Prizes from 2021!
How Do I Win One?
Well, it's easy! You can place one of the five tickets included with your admission into the corresponding bags in front of each prize. All of the winners will be announced at the end of the night, and you must be present to win – so try not to pull that Irish good-bye!
You can purchase more prize tickets for $1 each – and they are cash only. You can buy as many as you like, and there is no limit on how many prizes you can win! Yes, you read that right! The minimum purchase for raffle tickets is $5 – and remember there is NO ATM on site – so bring cash with you!
Party for a Cause
While we at BOLI are all about weddings and fun, we also give back to the community. Each year, we use the soiree as an opportunity to give back to those in need. This year, we've chosen to collect donations for Island Harvest – Long Island's largest hunger-relief organization. We hope all of our beautiful brides are able to donate. A donation to Island Harvest will get you five raffle tickets!
If you can't make the soiree, but still want to donate, you can drop off your donation that evening or give it to another BOLI who is attending. Each year, BOLI is amazed at our members' generosity, and we look forward to making an impact in our community.
I'm In! What Else Do I Need to Know?
The dress code this year is black and white cocktail attire. Think dresses, rompers and jumpsuits. Leave the joggers and hoodies at home. This is a fancy event to celebrate you! Get dolled up – you deserve it!
The soiree is a private event, which means only members of the Brides of Long Island are invited. We know it's scary attending an event solo, but we promise you'll make new friends quickly! In fact, BOLI founder Heather and admin Suzanne met at the very first event and have been best friends ever since. You can bring a friend – but that friend needs to be a BOLI member!
There will be a cash bar for liquor-based drinks. So again, make sure to bring cash with you for drinks and/or prize tickets!
We will be following all CDC guidelines and New York State mandates at the time of the event. Safety first! We know with the pandemic things change quickly, so we will stay on top of the guidance and keep you updated!
How Do I Get A Ticket?
The Brides of Long Island Summer Soiree usually sells out quickly, so make sure to set your alarm for 3:00 p.m. on April 1 to buy a ticket! Tickets will not be available at the door. In the event you can't attend, soiree tickets are refundable up to 30 days prior to the event date.
Important Information
Remember – tickets go on sale Friday, April 1 at 3 p.m. You can click here for tickets.
The 2022 Brides of Long Island Summer Soiree will be held at the Heritage Club at Bethpage in Farmingdale on July 28 at 7 p.m.
For more information, click here and, of course, stay glued to the Brides of Long Island Facebook group!
Why not treat yourself to some BOLI swag before you get dolled up for the soiree?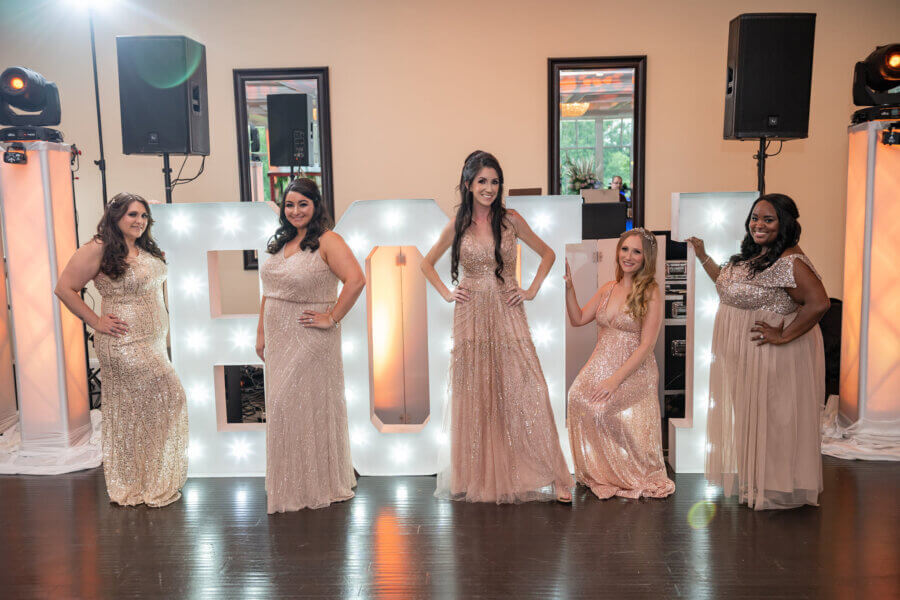 (Photo courtesy of The Glenmar Studio)