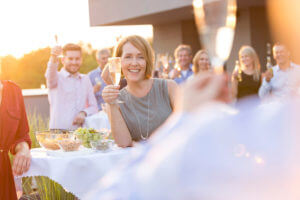 For starters, congratulations on your engagement and that new shiny ring! Now it's time to celebrate with those you love. You probably have a few questions as this is a whole new world you've just stepped into, but don't worry, we have the basics covered here, BOLI always has your back!
What's an Engagement Party?
Believe it or not, everyone and their mother wants to congratulate you on your engagement! Engagement parties are a great time to introduce the two families and two groups of friends. They will be seeing a lot of each other over the next few months, so this helps break the ice. These can be as simple as a backyard BBQ or as extravagant as a full blown venue affair. Don't worry about registering for gifts for this event as that is what the bridal shower is for!
Who Should Host it?
Traditionally, the bride's parents would host the engagement party and the groom's parents would host the rehearsal dinner. Both families can come together and plan the party or even you and your better half can host. There are no set rules anymore, so do it your way!
When to Have it?
Typically the engagement party is thrown a few months after the proposal, however many couples choose to wait a little longer for warmer weather, again you make the rules here! Typically invites are sent out six weeks prior to the event but it never hurts to let out of town guests know the date ahead of time. Due to the more laid back nature of engagement parties, you can either send an invite through the mail or send an evite to save some trees and cash!
Who Should be Invited?
Stick to the old school rule, if they are invited to the engagement party, they are invited to the wedding. If you are thinking of inviting some people that you do not want at the wedding, maybe rethink your guest list. To avoid the awkward questions; Start planning your guest list early!
What to do at an Engagement Party?
Try not to get engagement parties mixed up with bridal showers. An engagement party is not gift orientated. This means you will not be spending half the party opening gifts. These parties are more casual talking, eating and drinking. If you wanted to spice things up, you can play games such as the Newly Weds Game, Wedding Bingo, or the Shoe Game. You can even bring in fun things such as an ice cream truck, team bride/team groom cornhole and other fun lawn games. This is a great time to do your bridal party proposals!
What to wear?
Like any party, dress code feeds off of the vibe of the venue. If you are going with an "I Do BBQ" keep it simple. If you were more on the elegant affair side, you can go with a more elevated casual look. If you wanted a specific dress code (cocktail attire or casual) just be sure to put it on the invitation!
Remember to have fun, say hello to all of your guests and be sure to introduce those who do not know each other to one another. Enjoy every second of the event, it goes by very fast! Don't forget to send out thank you cards to guests who brought you a gift.