]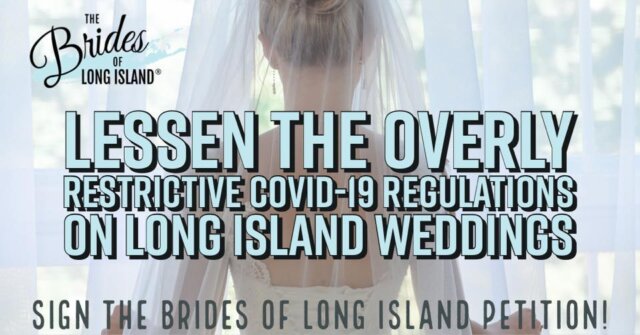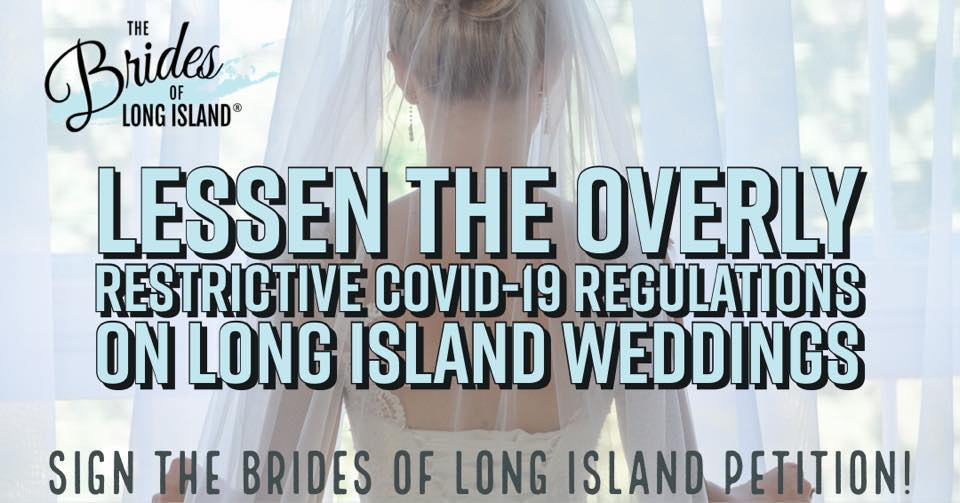 The petition urges Gov. Cuomo and elected officials to re-consider certain restrictions on hosting events.

We've laughed with you. We've celebrated with you. And over the heartbreaking last year, we've cried with you. And now we're fighting for you! The Brides of Long Island team has created a petition, urging Gov. Andrew Cuomo to ease restrictions and create more simplified rules on the wedding industry.
As the wedding industry has started to open back up, many of you are confused as to what the restrictions actually are. How many people can you have at your particular venue? How will all of your guests get tested? What happens if someone gets the vaccine? And what the hell is a dancing square anyway? BOLI has heard all of your concerns loud and clear, as we always do.
BOLI believes the current rules, though they are better than 2020, are unnecessarily restrictive, confusing and unreasonable. And while the current regulations do allow for more weddings to be held, BOLI believes they are ultimately unfair to not only brides, but vendors, venues and guests.
As of March 15, 2021, all venues are allowed to host 50% of their capacity or up to 150 people, but all guests, including the bride and groom, are required to have a negative COVID-19 test. Alternatively, if a guest has been vaccinated, a negative test is not required, but still recommended. All events must end by 12 a.m. And guests must dance with members of their immediate family, household or table in a designated area. See all of the regulations here.
The petition, which will be sent directly to Gov. Cuomo and several elected officials, asks for simpler mandates and more efficient policies. The four main sticking points are:
– A guest limit of 50% venue capacity, up to 150 people, with NO testing requirement
– Event vendors become eligible for vaccinations
– A lift of the 12 a.m. curfew for wedding venues
– The removal of required dancing squares
Within 24 hours, the petition received over 3,000 signatures. And it's still growing. The entire BOLI team knows there is power in numbers. And with over 14,000 members, we know that we have the ability to make changes and fight for fair and effective policies.
Now it's your turn! If you haven't yet signed the online petition, click here to read it over and sign it. Once you've signed, share it everywhere! On all of your social media platforms, with your family, friends, acquaintances and vendors.
Lastly, BOLI has drafted an email that can be sent to the elected officials directly from you. All you have to do is fill in the blanks with your own information and hit 'send.' The more emails that are sent, the more our voices are heard.
If 2020 has taught us anything, it's that we are strong and resilient. Let's make our voices be heard, and let's get back to planning and celebrating the best day of our lives!
Please send your emails to the following:
NcExecutive@nassaucountyny.gov
county.executive@suffolkcountyny.gov
https://www.governor.ny.gov/content/governor-contact-form
Dear Gov. Andrew Cuomo,
My name is __________. I was supposed to be getting married on ______, but have postponed to ____,_____,_______. I am writing to you today to ask for change regarding the regulations on Long Island weddings. While I understand the necessity of restrictions being put in place to prevent the spread of COVID-19, I'd like to propose alternative restrictions that I, as well as the almost 14,000 members of Brides of Long Island, believe are more effective, easier to execute, and will be less confusing for vendors, venues, guests, and fellow brides. We are proposing the following for your consideration:
A guest limit of 50% capacity up to 150 people with NO testing as the current regulations make it nearly impossible for guests to get tested in time to attend an event.
Event vendors become eligible for vaccinations to protect themselves, their families, and the many people they come in contact with while working.
Complete removal of the curfew. The Jewish religion prohibits weddings being held from sundown on Friday until sundown on Saturday, in observance of Shabbat. A 12 a.m. curfew also further limits our Jewish couples, as it makes a Saturday evening wedding all but impossible. Sadly, it also encourages them to move their events to states like New Jersey and Massachusetts, where there are no curfew mandates in place.
Removal of the required dancing squares, which we feel encourages closer contact than necessary. Removal of the dancing squares will allow more room for socially distanced dancing throughout the entire venue space.
Thank you for your time and consideration.
Signed, ______________