Ask these important questions while taking venue tours to help make your decision easier.
You're engaged!!! Once you come down from that engagement high – OK maybe not down completely – but once you can wrap your head around the fact that you're getting married, it's time to start planning. As any BOLI will tell you, once you have any idea of the date, year or just time of year you want to get married, you should start looking at venues. The sooner you start looking on Long Island, the easier it will be to narrow down and lock in a date, and then start booking other vendors.
But looking at and touring venues can be overwhelming! Luckily, the Brides of Long Island team is here to calm your nerves and help you navigate this most special time in your lives! It doesn't matter if you've known for a while which venue you want for your wedding or if you're looking at a few to narrow it down, it's important to ask as many questions as you can during your tour. Here are 39 questions to ask when touring a venue.
Basics
Do you host just one wedding (or event) at a time? If multiple events happen at a time, do guests of each party see each other? Do they share rooms or facilities? 
What is included in the price per person? (For example: cocktail hour stations, courses for the reception, dessert, etc.)
MORE: How to stick to your wedding budget
What dates are available for the month I want to get married?
What is the cost for my vendors to eat?
What happens if I can't meet my minimum head count?
What are the prices for different days and times? (Even if you have your heart set on a Saturday night wedding, you should get their different price points to give you more options.)
Are there any sort of service fees or extra fees on top of the price per person?
What is your cancellation policy?
What is the minimum and maximum head count?
What is your payment plan like? How much is the deposit?
Do you offer any discounts for first responders, military, etc.?
Can you walk me through a typical wedding day or night?
Do you hold any bridal showcases?
How early can I arrive to get ready or take photos? Will I have free reign over the space, or will I need to be mindful of other parties using the venue?
Do you have a space for the bridal party to get ready?
Do you have a space for a ceremony? What is the additional cost?
Do you allow rehearsal or rehearsal dinners?
If the cocktail hour or ceremony space is outdoors, what is the backup plan during inclement weather?
What sort of insurance do my vendors need to provide?
What does your liability insurance include?
Can you show me what the ballroom/cocktail hour room lighting will look like? (BOLI expert tip: Try to visit your venue during the time of day you plan to hold your wedding, this way you can see what the actual lighting will look like!)
How will the venue be decorated during my wedding day? (For example: if you are planning to have a winter wedding, what are their holiday decorations like?)
Vendors & Extras
Do you offer all-inclusive packages? (For example: DJ, photographer, cake, flowers, etc.) Does my price change if I want to use a vendor that's not included?
What sort of extras do you offer? (For example: Viennese hour, specialty cocktail hour stations, etc.)
Do you have a list of preferred vendors?
Do you have a space for an after party? What is the additional cost?
Do you allow – photo booths, food trucks, outside food, etc.? Anything that you plan on having that's extra, make sure to ask if they allow it and if there is any sort of fee or insurance needed for it.
Do you allow – candles, hanging lights, a flower wall, etc.? Basically, any sort of decorations that you might be thinking of using.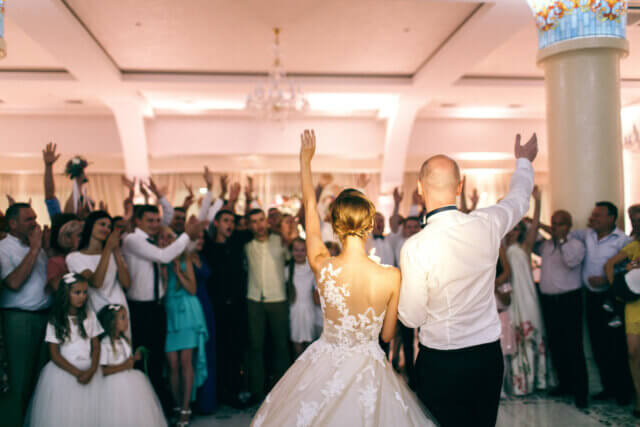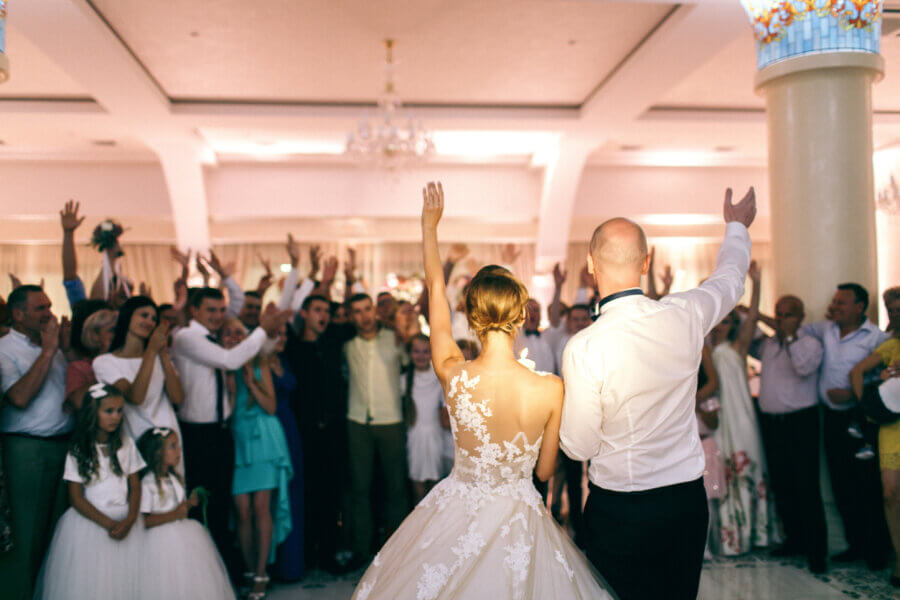 Food & Drink
Will I be able to taste a sample menu before I choose my own menu?
What sort of alcohol is included? Does that include shots? (BOLI note: Most venues include alcohol and top shelf liquor in their price per person, but it's still important to check.)
What does a sample menu look like for the cocktail hour and reception?
Staffing
What is your recommended tipping guide for your staff?
MORE: BOLI's ultimate tipping guide
What is your parking situation like? Is valet parking included?
How many restrooms are there? Are there restroom attendants? What supplies are offered in restrooms?
Will your staff set up my – memory table, DIY centerpieces, decorations etc.? When do I need to take down my decor and remove it from the venue? 
For COVID-19 brides:
Will you allow me to postpone or change my date if cases go up or restrictions are put in place?
How do you handle mask mandates?
How do you handle vaccine and testing requirements?
What sort of safety measures and precautions do your staff take?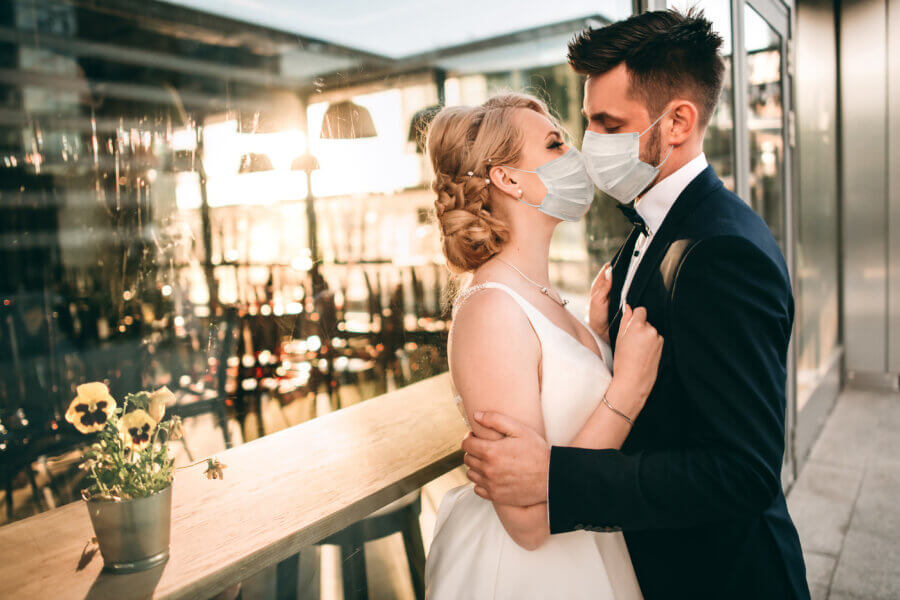 As you make your way through each venue, close your eyes and see if you can picture your big day. You'll want to ask the questions that are important to you. 
MORE: BOLI's list of preferred venues!
BOLI insider tip: take photos of each venue as you take the tours. This way you can look at them as you go over your notes to make your decision. 
When you do decide, make sure you read over your contract with a fine-tooth comb. If there are any extras or changes, make sure everything is written in the contract so there are no issues as you continue with your planning.
Click here for an awesome BOLI notebook to bring to all of your venue tours!