What you wear on your big day is a big deal, but it doesn't have to break the bank!
When it comes to your wedding dress, some people may say spare no expense. But the truth is, a wedding dress can get pretty pricey – and then when you add in alterations, it can cost thousands. And yes, what you're wearing is so very important, but at the end of the day, it's a dress you'll wear once. So, it's common to have a mix of emotions while you shop. On the one hand – it's your dream wedding and you want nothing but the best, and you want to be (and feel) beautiful. But on the other hand – you just can't imagine spending thousands on one dress!
There are ways to save though! Before you spend a couple months of your paycheck, check out these 15 ways to save money on your wedding gown.
1. Think Vintage
Perhaps your mother, grandmother, step-mom, aunt or anyone close to you had an amazing wedding dress. Why not see if it's something you can get altered for your wedding day? It will save money on the actual purchasing of the dress, and it would mean the world to whoever's dress it is to see you in it and celebrate your own big day.
2. Thrift Shop
Check out some thrift shops for a gown. While it might not be a huge ball gown, perhaps there's a slinky white or off-white dress you can dazzle up to make an amazing and unique wedding gown?
3. Side Hustle
Yes, you have an amazing job that you're just crushing each and every day. But is there something more you can do with your amazing self that could make you some extra cash? Consider a side hustle (and bonus points if it's something you love and can do from the comfort of your own home!). Do you love to write? See if you can blog for some websites. Do you love to bake? See if you can sell your treats on the side. There are plenty of side hustles out there – use your imagination.
4. Check Out a Sample Sale or Trunk Show
Most bridal salons will need to move inventory that isn't flying off their racks. Check out your favorite one and see if/when they'll have a trunk show or sample sale. While the dresses might be limited, you could get one at a steep discount.
5. Floor Samples
Instead of ordering a brand new dress, ask your bridal shop about purchasing the floor sample. If it's your size and amazing, it could cost you a little less than if you had to order a brand new one. Remember, you'll be able to get it altered, cleaned and pressed for your big day!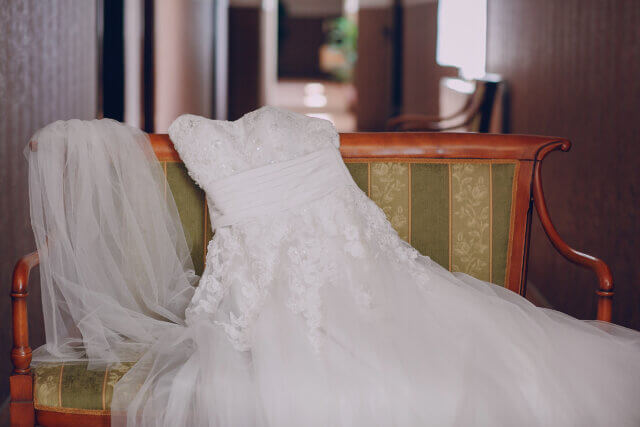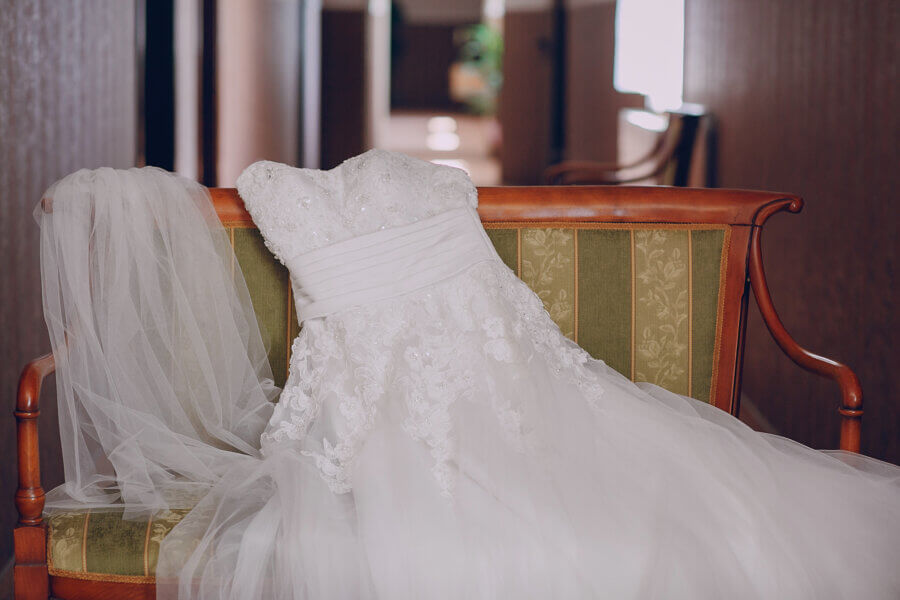 MORE: What you feel when you find THE dress
6. Poshmark
Poshmark is a social marketplace where people buy and sell clothing. Check out the dress section for some white or off-white dresses. Or search for wedding dresses for some lower priced gowns.
7. Facebook Marketplace
Another social marketplace. If you can tear yourself away from the BOLI page for a minute, check out Facebook Marketplace. Just type in "wedding dress" and you'll be rewarded with tons of wedding dresses for very low prices.
8. Rent Your Wedding Dress
There are a bunch of websites – think Rent the Runway – that offer the option to rent a dress. While you obviously don't get to keep your beautiful gown, you will save a ton and you don't have to worry about preserving it after.
9. BOLI's Preferred Vendors
Shameless plug here! Check out the Brides of Long Island's preferred vendors list! There are some great bridal salons just waiting for you to check them out. And if you become a BOLI premium member – there are great discounts that the vendors have to offer.
10. Alterations
You don't have to get your dress altered where you bought it. Yes, it's probably recommended. But if no contract is signed, you have options to bring it somewhere else. Or maybe you have a relative or friend who is a seamstress. You could save hundreds of dollars by getting your dress altered somewhere else.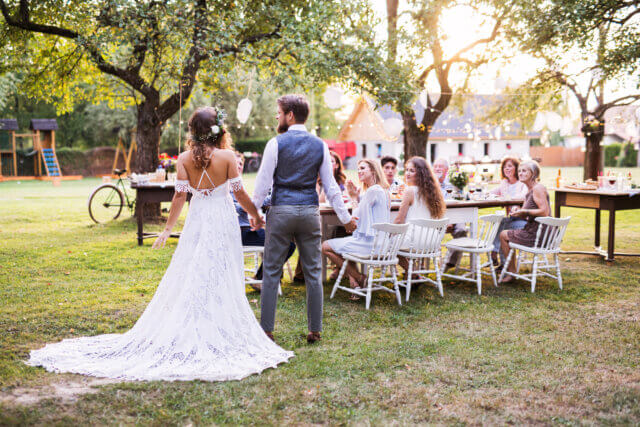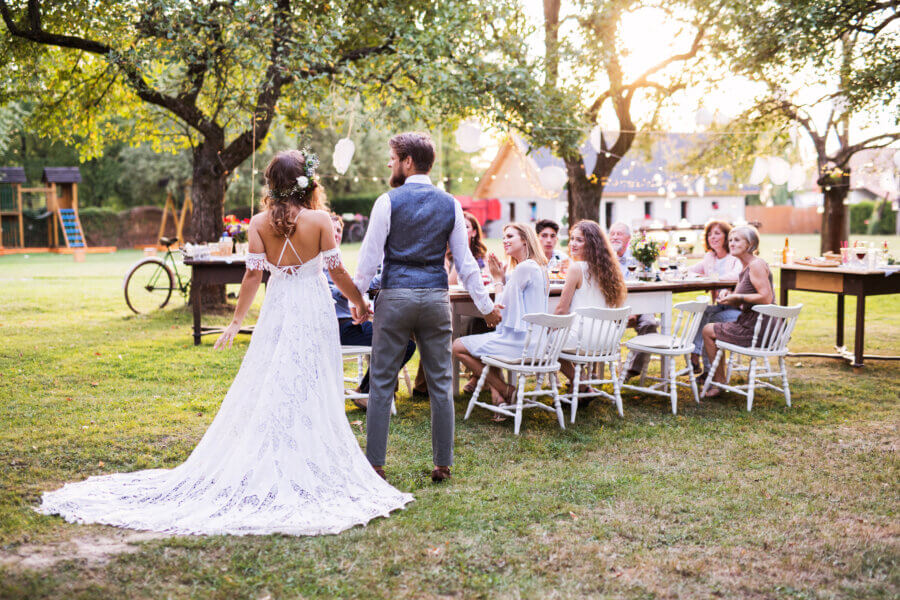 MORE: How to stick to your wedding budget
11. Start Simple
Why not get a simple gown and splurge on the accessories? If you start simple, it could save you money in the long run.
12. Shop Bigger Stores
Yes, it's great to shop local. But if you're looking to save money on your wedding gown, why not hit up a department store? Some have a wedding line, while others just have great dresses.
13. Look for Sales
Do some research and find out when designers release new lines. Look for your dress as new lines are released – you might get lucky and find an 'old' style on sale as the shops make room for the new dresses.
14. Accessories
Along with the wedding gown comes accessories – the veil, a belt, sleeves, shawls, etc. Think about nixing some of the accessories, or at least try to save on those (Amazon has some amazingly beautiful veils that are very affordable)! This way you have more to spend on your gorgeous gown.
15. Stick to Your Budget
At the end of the day, it is important to stick to your budget. If you only have a certain amount set aside for your wedding gown, don't even look at dresses out of budget. Sure, you might think you can swing it, but at the end of the day if you look at dresses that fit into your budget, you'll be a much happier bride.
MORE: How to get your perfect wedding day body
Just remember, no matter what you buy, where you buy it or how much you spend, you're going to look gorgeous on your wedding day!
Buy something cute for your honeymoon at the BOLI Store!