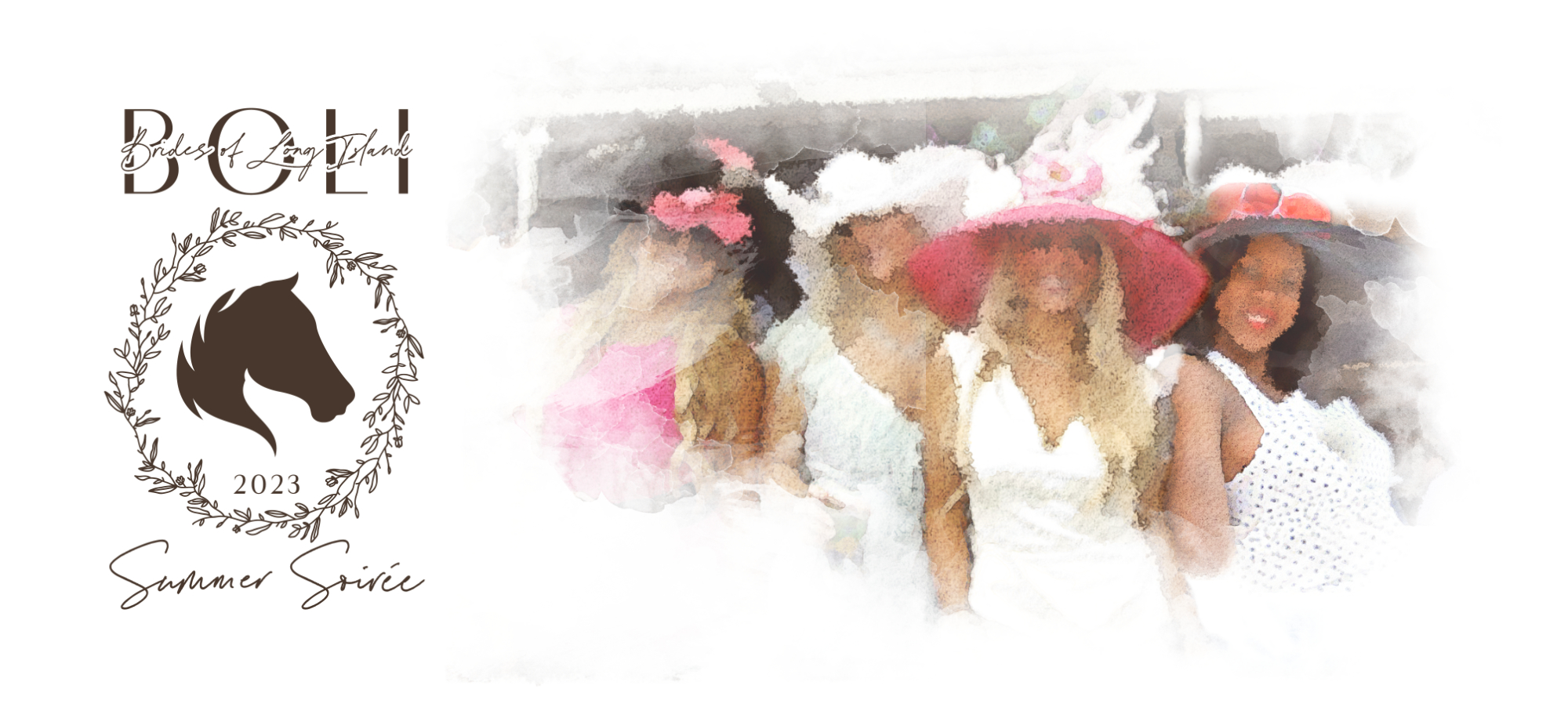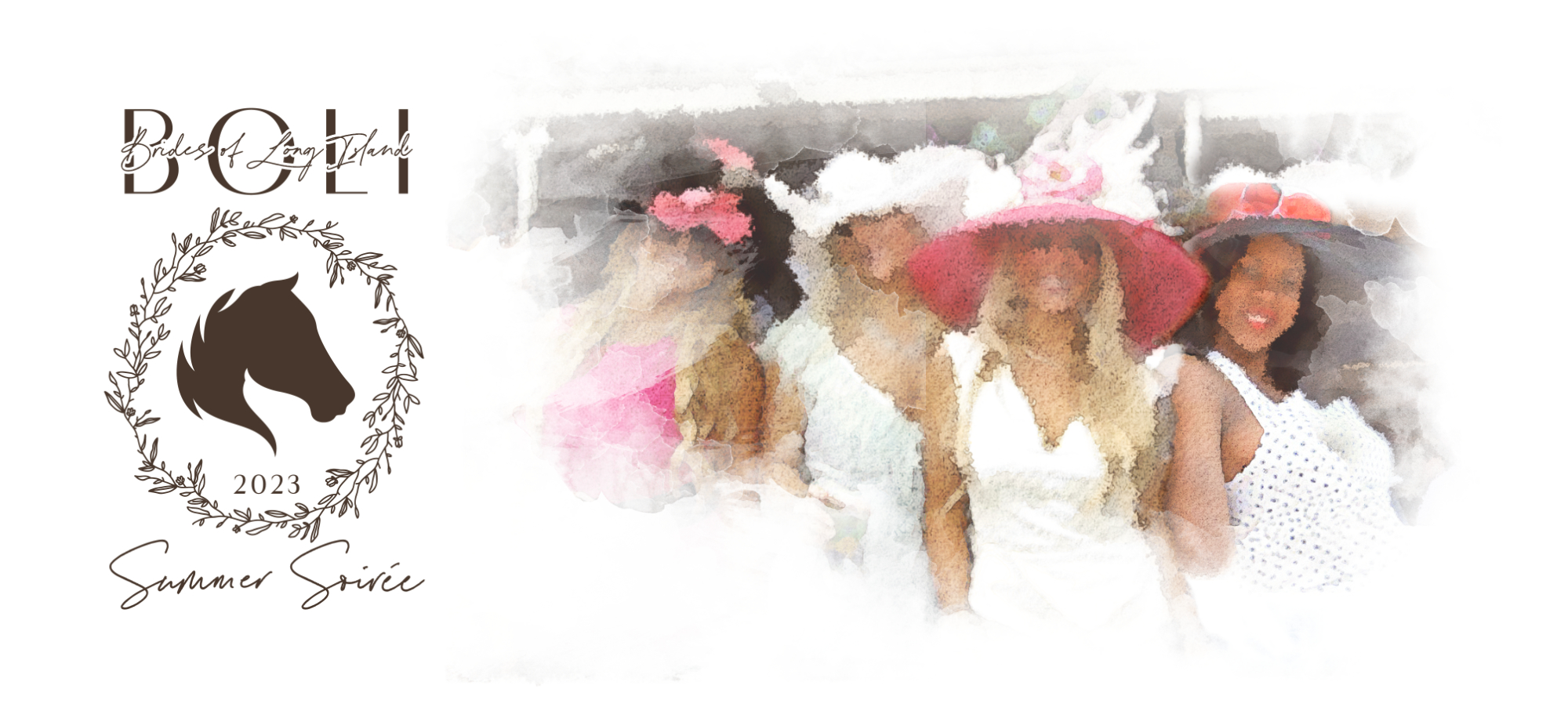 Brides of Long Island Summer Soirée
Kentucky Derby Night
Thursday, July 27th, 2023
7:00 – Midnight
The Estate at East Wind
5720 NY-25A Wading River, NY 11792
Talk Derby To Me
We're off to the races for the biggest event of the year (except for your wedding day, of course 😉)! The annual Brides of Long Island Summer Soirée is a chance for you to take a break from mother in laws and seating charts, meet and mingle with fellow brides, dine and dance in one of our area's most stunning venues, The Estate at East Wind and maybe even win one of our epic giveaways!
Included with the purchase of your ticket:
Admission to the 2023 Brides of Long Island Summer Soirée
A large variety of delicious food & drinks
Five free prize tickets
A festive night out with the fillies and the opportunity to make lasting friendships with other members of the BOLI community.
Transportation
Galloping in from Nassau County? Transportation will be available to and from the event for our Nassau County brides with a pick up location at the Hicksville Train Station from Azure Limousine
There are only 66 seats available for this option, so if you would like a spot, please email amanda@bridesofli.com to see if space is available.
The busses will depart the Hicksville train station at approximately 5:45 PM
The cost for transportation is $10 a person to cover the tip for the drivers.
Concessions
This event will include tons of yummy hors d'oeuvres and multiple buffet stations.
Beer, wine, soda, and a signature cocktail are also included.
Liquor will be available for purchase, so bring some cash for that Mint Julep.
And don't forget to leave room for dessert!
The Winners Circle
Bride Soirée attendees will have the chance at winning one of many incredible giveaways, worth over $100,000! These include grand prizes as well as swag baskets donated by local businesses. Your BOLI Jockeys have been working hard to secure some awesome prizes and we can't wait to announce them soon! At the event, brides can enter to win by placing their tickets into corresponding bags in front of each prize. Winners will be announced at the end of the evening, and you must be present to win.
Golden Tickets
Keep an eye out for your mail, because you may hit it big! 20 lucky brides will receive a Golden Ticket – worth 100 free prize tickets at the event – with their admission ticket! If you end up a dark horse, don't worry – you'll still have a chance to win one of 10 extra Golden Tickets! Just snap a pic of your admission ticket, post it to your Instagram story, and tag @thebridesoflongisland to enter.
5 Free Prize Tickets with Donation
This year at our 2023 Summer Soirée, the Brides of Long Island is proudly accepting donations for Rachel Quinn Children's Foundation. Rachel Quinn was a BOLI member who dedicated her life to fostering empathy in children. As a beloved fourth and fifth grade teacher in the Hauppauge school district, Rachel inspired her students to lead with kindness and compassion not only in the classroom, but in every area of their lives. After Rachel and her unborn daughter tragically passed in June of 2021, Rachel's husband Nate created Rachel Quinn Children's Foundation – an organization dedicated to providing school supplies for children in underserved Long Island communities. At this year's Soirée, we will be collecting school supplies such as backpacks, #2 pencils, binders, notebooks, Post-it notes, crayons, and index cards to benefit Rachel Quinn Children's Foundation. Your donation entitles you to 5 additional prize tickets. The Brides of Long Island continues to be amazed by our membership's generosity, benevolence, and humanity – the values by which Rachel Quinn lived her too-short life. We look forward to honoring her legacy by making a positive impact on our community!
Frequently Asked Questions
What is the dress code?
Cocktail Attire: Fun & bright colored dresses, pant suits, jumpsuits or rompers are perfect! Don't forget a hat or fascinator – Google "Kentucky Derby outfits" for some fun inspiration! Don't be disqualified! Jeans, sweatpants, leggings, flip flops, hoodies are not permitted.
Who can go?
Our event is for Brides of Long Island members, their Maids of Honor, or their bridesmaids only. Don't sweat if you're riding solo – most of our members attend on their own! The Soirée is designed for BOLI members to meet and bond with each other off of social media and in real life. We promise you'll make friends quickly, and we say that from experience – Heather and Suzanne actually met at the very first event, and have been best friends ever since.
Can I bring a friend or my fiancé?
Only members of Brides of Long Island and their bridesmaids or maid of honor are invited and permitted to attend. This is a girls night out, sorry stallions!
I am not attending the Soirée but would like to win a prize, can I?
No, only guests in attendance at the event can win a prize.
What should I bring?
This is a cocktail-style event, so only bring what you want to carry. Make sure you have a form of ID to be checked with your ticket at the door, cash for prize tickets and liquor-based drinks (there is no ATM on site), and school supply items for The Rachel Quinn Children's Foundation collection if you choose to donate.
Are tickets available at the door? No.
The Summer Soirée sells out in advance, so tickets will not be available at the door.
Is the event handicap accessible?
Yes, our event is handicap accessible.
Will there be vegan, vegetarian, gluten free, and/or dairy free food options?
Yes, we always make sure our members' dietary needs and preferences are met. Please notify wait staff of your concerns, and they will be able to advise you on appropriate food options.
What is the cost of prize tickets?
Prize tickets are $1 each and are cash only. There is no limit to how many tickets you can buy and there is no limit on how many prizes you can win! The minimum purchase for raffle tickets is $5. Remember – there is no ATM on site, so please bring cash if you intend to purchase prize tickets.
Are Soirée tickets refundable?
Soirée tickets are refundable up to 30 days prior to the event date. Please note: Processing fees are non-refundable at any time, so they won't be returned to the ticket buyer unless the buyer requests a refund for a duplicate charge within 7 days of the purchase.
How do I contact the organizer?
If you have any further questions, you can email us at contact@bridesofli.com.